We are delighted to share our 2021 Sustainability Report, which is our 6th annual sustainability report, that covers the financial year ended 31 March 2021, and a testament to Summertown's long-standing commitment to building a sustainable future. The report details our impact and performance against eight material issues that matter most to its stakeholders: economic performance; environmental impact; people; health, safety and environment; responsible procurement; community; technology; transparency and anti-corruption.
Despite this year's challenges the COVID-19 pandemic thrust upon the world, Summertown Interiors successfully met all its sustainability targets with the exception of office water usage, which was due to increased hand-washing and extra hygiene measures taken to protect staff. During the pandemic, Summertown streamlined its operations, identified new and more efficient ways of working, enhanced its technology infrastructure and focused on the health and wellbeing of its people.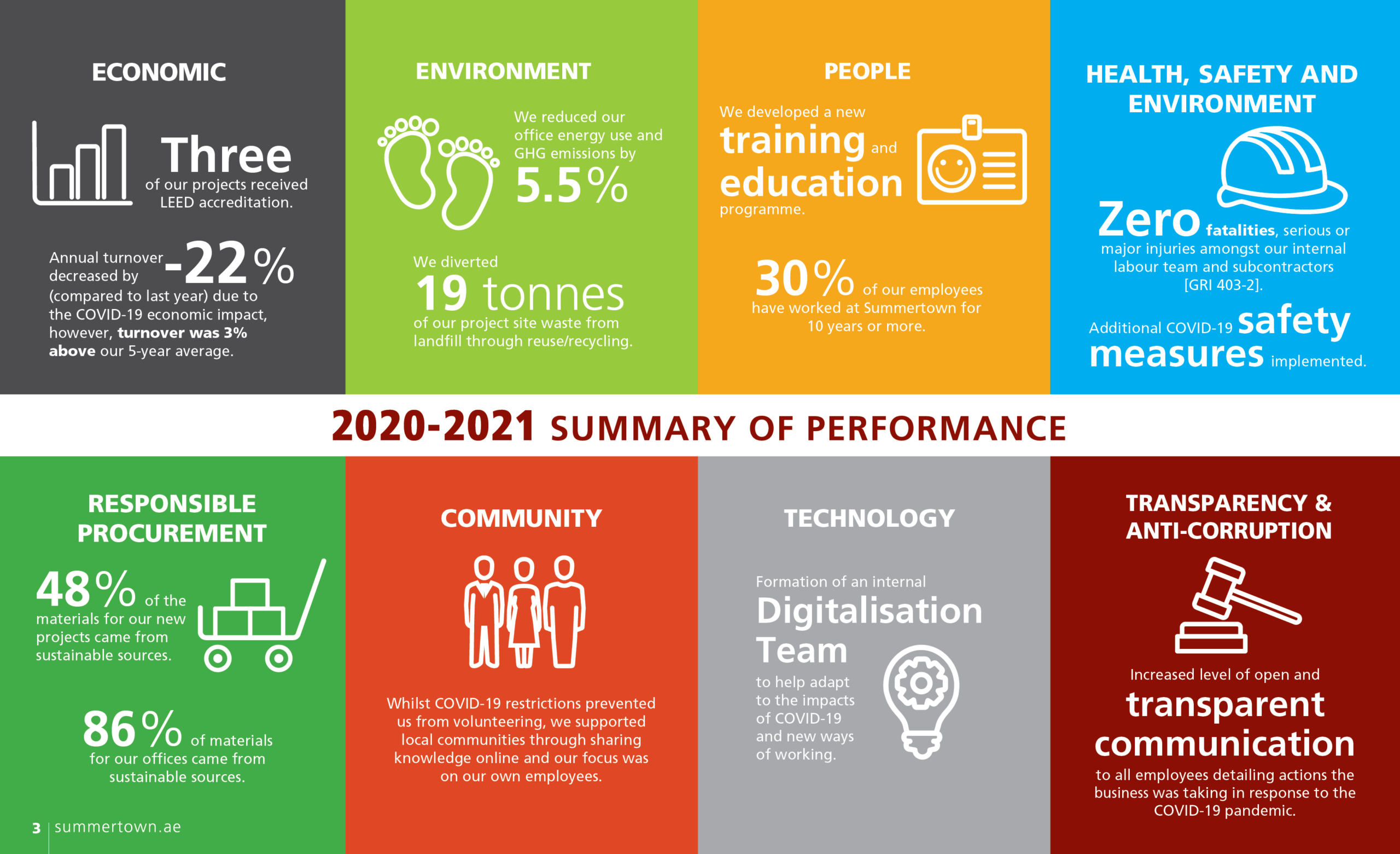 Marcos Bish, Managing Director of Summertown Interiors said: "We are passionate about achieving our JOURNEY2030 goals and we are confident in the progress we've made despite navigating a tumultuous year. Looking ahead, the main challenge for us will be to overcome the economic impact of the COVID-19 pandemic. Our focus will be on enhancing our employee wellness programme to become a 'best place to work' in the UAE, and to increase the number of sustainable projects we deliver to do our part in helping Dubai achieve green city status. We are proud of our ability to deliver sustainable building solutions for clients, and of our people who make it happen."
Our sustainability strategy and JOURNEY2030 goals are aligned to the global United Nation's Sustainable Development Goals (SDGs) and regional sustainable ambitions – UAE Vision 2021, UAE Green Agenda 2030 and the National Programme for Happiness and Positivity.
To find out more click here to download the full report from our sustainability page.