We are very proud and excited to receive The Happiness @ Work Award for "Best Workplace Wellness Program" at last night's Happiness @ Work Award Gala Dinner and Presentation Ceremony in Dubai.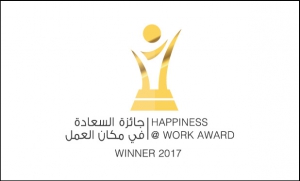 The independent international judging panel: Dr. Saamdu Chetri (Chair), Dr. Mansoor Anwar Habib, Jane Fiona Cumming, and Dr. Yasmeen Al Bulush. reviewed 65 applications across 5 categories. The Happiness @ Work Awards are the first of its kind in the world to recognize and shine light on organizations that institute positivism and sense of belonging at the workplace and are constantly innovating to create a workplace environment that inspires and engages employees.
We take the health, wellness and wellbeing of our staff very seriously, as we recognise that a healthy and happy workforce delivers wider business benefits. Our 'Health, Wellness and Wellbeing' program is part of sustainability initiatives designed to improve both the wellness and wellbeing of our employees, and to enable employees to make smart and healthy choices.
Wellness – we promote regular physical exercise and healthy nutrition to help improve health and prevention.
Wellbeing – we offer a happy, collaborative work environment and build awareness of common wellbeing topics through workshops and communication.
Click here to read more about the Happiness Awards.