The Digital Workplace – Making the 'Paperless Office' a Reality
The COVID-19 crisis is driving a long-delayed move to a more digital business environment. It has drastically accelerated the implementation of digital workplace technology, and further demonstrated the potential of paperless work environments, where the use of paper is eliminated or greatly reduced.
Locally, the Dubai government's Dubai Paperless Strategy, an initiative which aims to stop using paper in all internal and external transactions and with customers by December 2021, marks another major step towards making Dubai a smart city of the future. Led by Smart Dubai, the initiative will see the elimination of more than one billion pieces of paper used for government transactions every year – saving time, resources and the environment. [1]
As more companies look at ways in which they can become more sustainable and adopt a digital workplace, we examine the numerous benefits that going paperless can bring to the workplace.
Environmental Benefits
Going paperless means that companies can easily eliminate a major contributor to their environmental footprint. Rethinking your workplace 'paper' will:
Productivity Benefits
Going fully digital can also save time, freeing staff from administrative chores like printing, scanning and tracking documents and enabling them to focus on higher-value tasks.
Security Benefits
The security benefits of a paperless workplace go beyond access rights. Implementing document management software also allows organisations to use electronic signatures, redact confidential information, create audit trails and more. [5]
Workplace Benefits
Going paperless might not seem easy at first, but the benefits will outweigh the outdated physical habit eventually. Learning to adapt to smarter ways of working by going greener and implementing sustainable initiatives in your workplace is a long-term solution.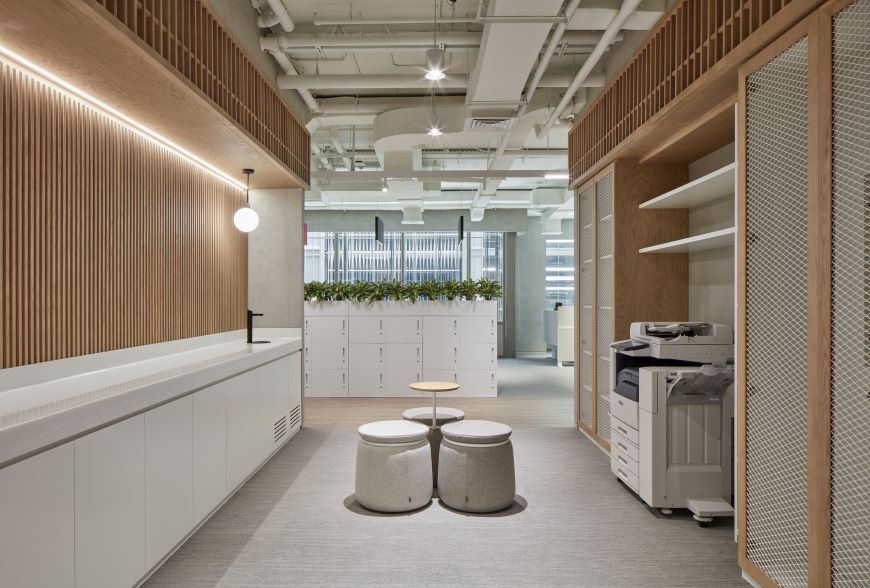 Embrace the Change
At Summertown, we aim to be a leader in sustainable development, and since occupying our LEED certified workplace in 2010 we have always strived to use less paper and recycle as much as possible. Each year in our annual sustainability report we publish how much waste is generated at our office both by material type (plastic, aluminium and paper) and waste management route (landfill, recycling, composting). We also have a waste sustainability goal to achieve zero waste to landfill by 2030.
Like many small businesses the majority of our business forms and files are on a shared server and with the use of Microsoft platforms (like Teams, Outlook & Planner) it  made it a lot easier to transition to a work from home scenario during the height of lockdowns last year. However, what we learned during the pandemic was that we still needed to digitalise more of our processes, and further reduce the need and number of documents we need to print and sign.
We have always strived to use less paper from a sustainability point of view, and this year we are taking further initiatives. Firstly, in late 2020, we implemented an online HR App for all our HR related forms and approvals. This new digital platform is available on both mobile and desktop, and for example, it enabled us to transfer our annual leave request and approval process to be fully digital. Secondly, in 2021, we plan to transform all our ISO forms into digital format and enable digital signatures for approval, to eliminate printing, scanning, and handling of these documents.
Every business has different needs for documents; however, the common theme is that all workplaces can transfer to a paperless office.
References: 
[1] https://www.smartdubai.ae/initiatives/paperless
[2] https://www.wm.com/location/california/orange-county/newport-beach/env/paper.jsp
[3] https://www.touchstar.co.uk/blog/environmentalimpact
[4] https://www.prodriveit.co.uk/the-paperless-office-9-ways-to-end-paper-waste-for-good
[5] https://www.laserfiche.com/ecmblog/benefits-transforming-paperless-office-paperless-employee/
[6] https://www.papersave.com/blog/auditing-doesnt-nightmare-going-paperless-changes-audits/
[7] https://www.recordnations.com/2018/04/paperless-office-save…