The healthcare sector in The United Arab Emirates (UAE) has experienced high growth over the last 10 years. There is an increasing number of hospitals and clinics with world-class services and technologies.
This comes as a result of the UAE government's commitment to enhancing the healthcare sector as a priority. This is evident by both its world-class response to the COVID-19 pandemic over the last 2 years, and in its Vision 2040, which states that "the healthcare sector is one of the key drivers of growth, particularly given that public spending accounts for over two-thirds of overall healthcare expenditure." [1]
From 2018 to 2022, private-sector healthcare spending is forecast to have increased at a cumulative annual growth rate (CAGR) of 9.5%."[2] Today, we see that the sector is shifting from curative to preventive care and implementing future investment into digital and technological infrastructure.[3]
To meet its goal to create a world-class healthcare system that's fit for the next 50 years, it also requires private-sector healthcare investment to meet the needs of its growing population, healthcare needs, and tourism requirements. This includes providing services that go beyond just treatment but incorporates rehabilitation, maintenance, and wellbeing.
Building Healthcare – hospital and clinic healthcare fit outs
Building healthcare environments is inextricably linked to occupant health, where there is a growing trend in healthcare architecture in which 'designing for wellness' is driving a large portion of fit outs. This includes refurbishment work of older facilities across the UAE, as well as the creation of impressive new infrastructure. The key lies in re-imagining traditional clinical environments into welcoming and therapeutic spaces that follow the patient journey to empower recovery. In addition to patient-centric design new healthcare fit outs also need to consider the environment and comfort for patients' families, visitors, and medical teams.
Healthcare fit outs also require specialised materials to improve functionality and safety, such as anti-microbial surface materials, lighting and acoustics, and air quality and filtration. Contractors that specialise in healthcare fit outs need to work closely with both the designers and bespoke suppliers to ensure these materials are fit for purpose, meet government guidelines and industry standards.
Sustainability should also be considered as a priority, as healthcare facilities are often the top energy and water users. Solutions that help reduce carbon footprint include improving the availability of natural light, introducing energy and water-saving devices, adopting resource and waste reduction solutions, and ensuring the use of antimicrobial materials that are easy to clean and maintain.
Healthcare Projects – Private-sector investment in new hospitals and niche clinics
As the UAE's leading fit out contractor specialising in green and sustainable interiors, Summertown Interiors, has recently undertaken several private-sector healthcare fit out projects for world-leading providers. All our healthcare clients aspire to create healthcare environments that provide excellent facilities but also improve the wellbeing of the space for both the building and its occupants. There is increasing recognition that smart, well-designed environments help promote patient wellbeing and allow healthcare providers to operate more efficiently.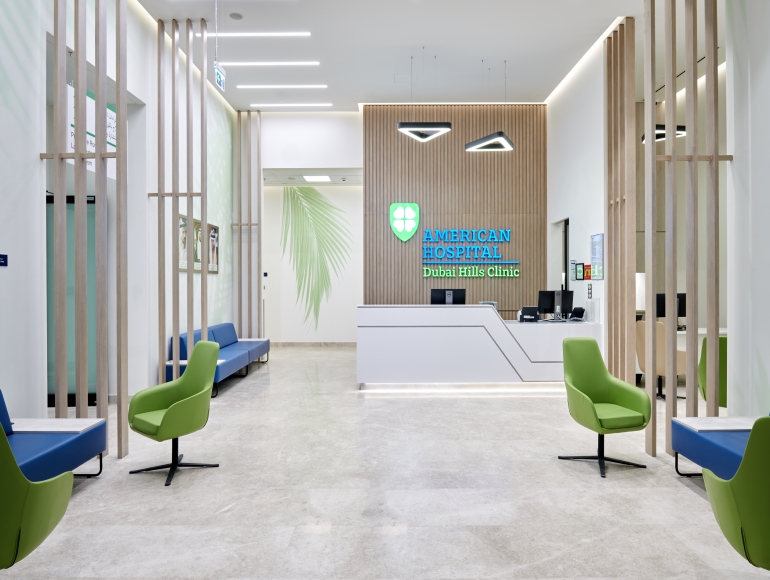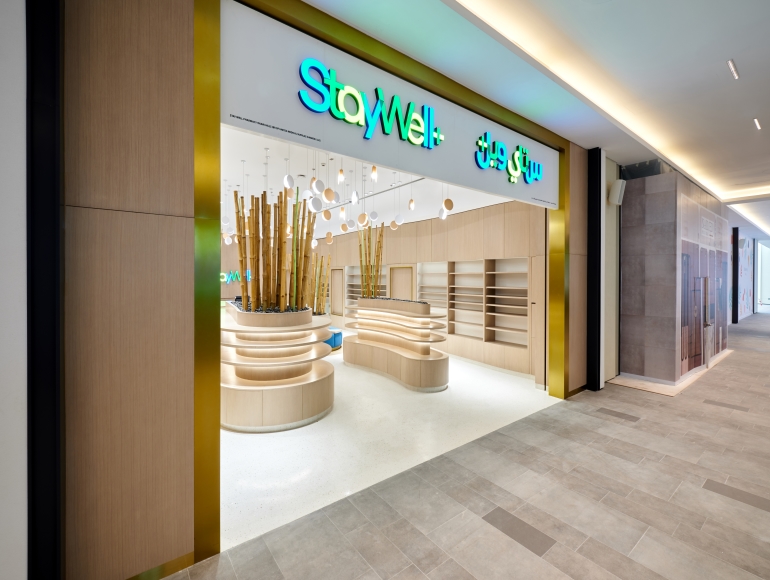 Another healthcare provider to open in a community-driven residential area is Abu Dhabi's Priory Wellbeing Center—a facility that provides psychiatric and psychological mental health, neuro-developmental and behavioural assessments and treatment to adults and children. For the latest project from leading UK provider Priory Group, Summertown transformed the 1,024sqm villa located in Al Bateen, Abu Dhabi into a warm and welcoming wellness centre focused on harnessing the fulfilment of its patients.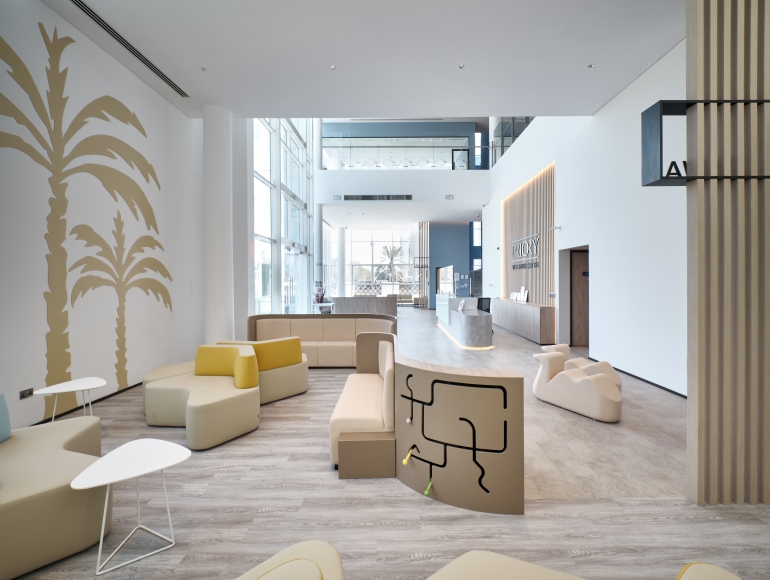 In collaboration with designers LXA and project managers PMK Consult, Priory's new wellbeing center embodies a calming atmosphere through a subtle colour palette, natural timber finishing for warmth and opaque glazing on glass that allows diffused lighting to enter the space without compromising desired privacy. Acoustically treated seating nooks enhance the common area to enable a quiet, calming and private waiting experience. Other design elements include wall print designs, minimalist interior, and contemporary space planning, which encourage a cultivating culture for guests and staff.
Summertown Interiors also delivered a new private-sector project recently in Dubai's Mediclinic Parkview Hospital — part of the hospital group which operates in seven hospitals and over 20 clinics in the UAE. Summertown undertook the full interior fit out of the 1,107 sqm fourth floor of the state-of-the-art multi-disciplinary hospital. A first of its kind integrated facility for the treatment of sports injuries, sports performance, musculoskeletal complaints, and rehabilitation therapy, the refurbishment included efficient planning of the space to bring to life a revolutionary offering for Dubai that provides a blended balance of hospital-level services and comprehensive rehabilitation training.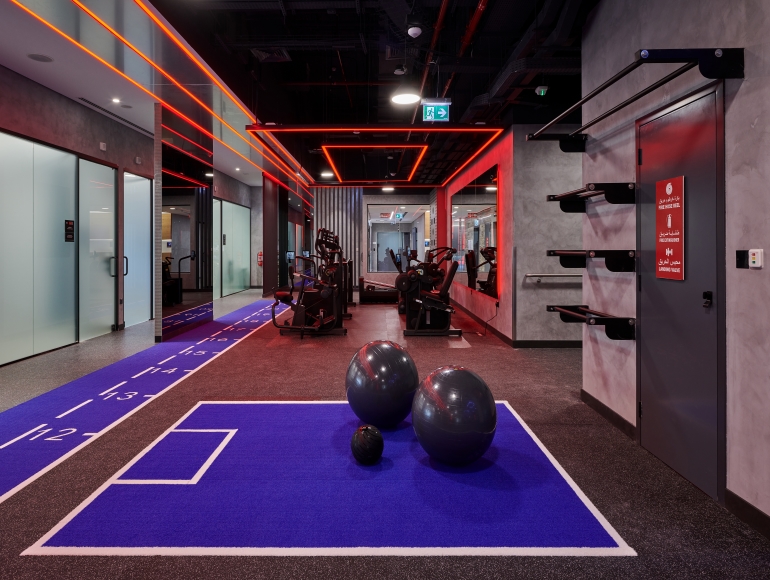 The key objective was to ensure design continuity of the floor including a nurse's station, 30 in-patient rooms with en-suite bathrooms, a waiting area, and utility rooms. This was achieved through coherent collaboration with Stantec who designed the main area and patient rooms and Leisure Direct Design who developed the gym area.
Over last the few years Summertown has delivered a wide variety of healthcare projects and we are proud to be supporting some of the UAE's top healthcare providers, helping bring to life their designs and adopting smart solutions and sustainable construction techniques to maximise the long-term value of their facilities.
To find out how Summertown can support your healthcare project contact us.
---
[1] https://www.trade.gov/country-commercial-guides/united-arab-emirates-healthcare-and-life-science
[2] https://assets.kpmg/content/dam/kpmg/ae/pdf-2020/09/executive-summary.pdf
[3] http://www.alpencapital.com/research/2020/GCC-Healthcare-Report-November-2020.php