We are delighted to release our 2023 Sustainability Report, covering the financial year ending 31 March 2023. The report details Summertown's performance against the environmental, economic, and social issues that we believe matter most to our business and stakeholders.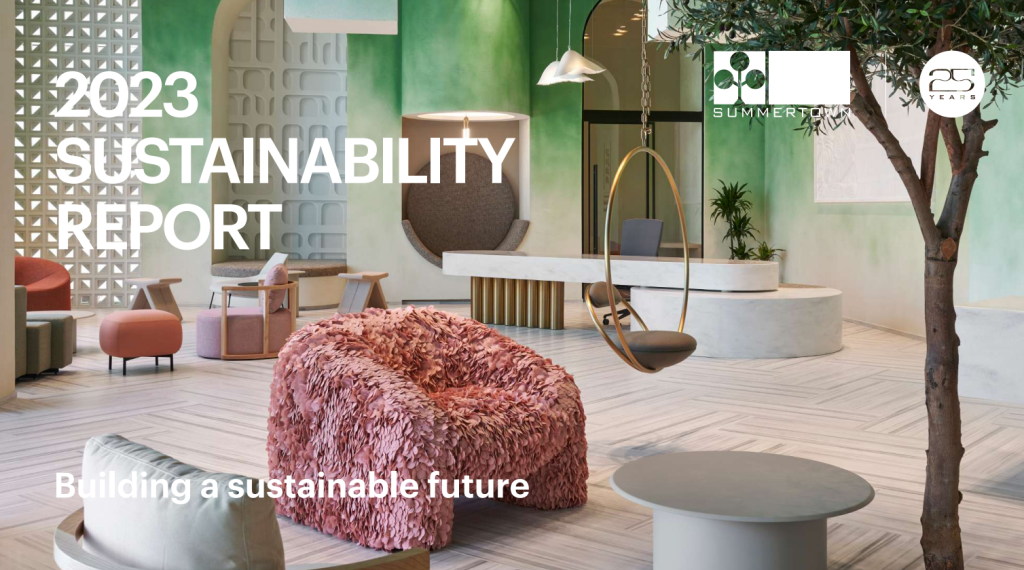 The 2023 report is our 8th annual sustainability report and is prepared in accordance with the Global Reporting Initiative (GRI) Standards and covers all our material topics to enable us to meet the criteria for the Core option. GRI is the world's most widely used standards for sustainability reporting, and is an independent, international organisation that helps businesses and governments to understand and communicate their impact on climate change.
During the year a materiality refresh based on external and internal stakeholder engagement, and the GRI sector guide for building and construction, was conducted and 18 topics were identified as material to the stakeholders and impacts of the business, and subsequently consolidated into seven material topic groupings: Economic, Sustainable Projects, Environment, Social, Human Rights, Community, and Transparency and Anti-Corruption. The report details the company's management approach, performance, and evaluation on these seven topics.
Key highlights of the report are detailed on the '2022-23 Summary of Performance'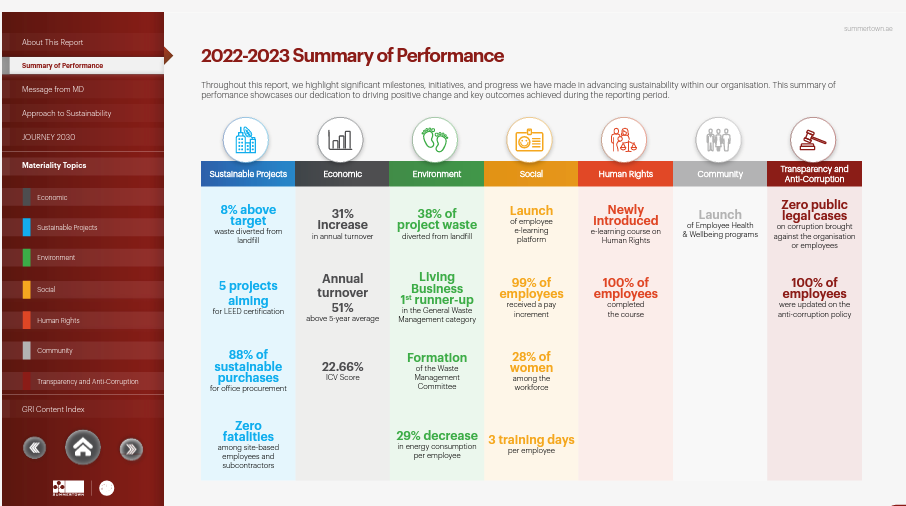 Summertown also earned the WELL Health-Safety Rating for its Dubai head office in JAFZA through the International WELL Building Institute (IWBI) – one of the first private sector businesses in the region to achieve the seal. The WELL Health-Safety Rating is an evidence-based, third-party verified rating focusing on ensuring a space puts the health and safety first for the people that occupy and visit via ensuring policies, maintenance protocols, and emergency plans are in place,
Our sustainability strategy is aligned to the global United Nation's Sustainable Development Goals (SDGs) and local sustainable ambitions – UAE Vision 2021, Green Agenda 2030 and Happiness Charter and the Dubai 2040 Urban Master Plan.
The report is available to download from www.summertown.ae