Evolution of Sustainability Reporting for Business
In the 1990s, the term "sustainability reporting" emerged as part of increasing environmental awareness. In the intervening decades, many organisations have adopted sustainability reporting and shared information about the economic, social, and environmental impact of their business activities.
Sustainability is most often defined as "meeting the needs of the present without compromising the ability of future generations to meet theirs." [1] A company that adopts sustainable practices most often tries to reduce its consumption of resources, and its environmental impact. [2]
Investors soon became aware that a concern with sustainable business practices was linked with company performance, impacting risk, return, and company value over the long-term. This has helped to drive the demand for standardised reporting – allowing for benchmarking and comparison. Mainstream investors now seek "comparable, consistent, and reliable information about a company's sustainability performance" to inform their investment decisions. [3] Research shows that 92% of the S&P 500 published Sustainability Reports in 2020. [4]
Read more on the importance of sustainability reporting for small companies
What is the Difference Between Sustainability and ESG reporting?
In recent years, sustainable businesses have become more focused, concentrating on balancing and meeting three dimensions – economic, environmental, and social responsibilities – in the past often referred to as "people, planet, and profits". However, the meaning of 'sustainability' has arguably been diluted by some to focus on environmental issues rather than all-encompassing environmental, social, and economic responsibility. This has led to the development of the Environment, Social and Governance (ESG) framework by financial institutions as a replacement for sustainability for investors. [5]
The ESG framework sets specific criteria to define environmental, social, and governance systems as sustainable, where are corporate sustainability has three key pillars – economic, environmental, and social. [6] The difference between ESG and Sustainability is subtle and can be summarised as "ESG looks at how the world impacts a company or investment, whereas sustainability focuses on how a company (or investment) impacts the world." [7]
Current Sustainability or ESG Reporting Standards
There are three main reporting frameworks or standards covering sustainability and climate impacts.
Global Reporting Initiative (GRI) Standards

The most opular and wide-ranging standards
73% of the world's 250 largest companies by revenue use GRI guidelines or standards.
67% of the top 100 companies by revenue in 52 countries and jurisdictions use GRI guidelines or standards.
168 policies in 67 countries around refer to GRI Standards. [8]

TCFD

Task Force on Climate-related Financial Disclosures is a principles-based framework for climate-related financial disclosures. [9]

SASB Standards

The Sustainability Accounting Standards Board (SASB) is an ESG guidance framework setting standards for the disclosure of financially material sustainability information by companies to their investors. SASB was developed by IFRS as a framework to include non-financial measures in corporate reporting. [10] SASB Standards are most often used by publicly traded companies. There are around 1,300 thousand businesses using this framework.
International Sustainability Standards Board (ISSB) [11]
The International Sustainability Standards Board (ISSB), established at COP26, has begun a consultative process to develop a global baseline for reporting on sustainability. This is in response to requests from G20 leaders, the International Organisation of Securities Commissions (IOSCO), and others for more complete and standardised information from organisations on sustainability.
The ISSB is seeking responses to two proposed standards. The first covers general sustainability disclosure requirements, while the second defines specific climate related disclosures. Feedback on the proposals was elicited over a 120-consultation period which ended on 29th July 2022. Subsequently, the ISSB will review the feedback and issue new standards by year-end. The consultation and feedback process will continue, including investors with the goal of helping to include sustainability when evaluating enterprise value. Specific industry-based requirements will also be developed building on SASB standards. [12] This consultation will include seeking feedback on the sustainability-related information needs of investors when assessing enterprise value and on further development of industry-based requirements, building on SASB Standards, which address a broad range of sustainability matters.
ISSB Collaboration with GRI
Earlier this year, the GRI and ISSB began to collaborate to align their sustainability standards. The goal is to demonstrate how the two sets of standards can be aligned to provide "unified reporting standards" to meet the needs of both investors and broader stakeholders. [13] But the issue remains complex in the absence of a single recognized and mandated reporting framework. Some critics have expressed concern that a distinction remains between reporting designed to meet investor demands and the more comprehensive viewpoint of "multi-stakeholder sustainability reporting". [14]
What is GRI?
Investors want to know more about the companies they are investing in, and the public wants more information about the companies they are dealing with. To meet this demand, the Global Reporting Initiative (GRI), an international independent non-profit organisation founded in 1997 in partnership with the United Nations' Environment Programme (UNEP) emerged to help organisations identify and communicate their impact.
The GRI standards are revised frequently to ensure that they represent the global best practice for sustainability reporting. The standards are organised as an "easy-to-use modular set" – allowing organisations of any size to track and report on their environmental, social, and economic effects. The standards are designed as a structured way for organisations to report about their operations and impacts. The GRI consists of:
• Universal standards – These standards cover "General Disclosures" regarding organisation's structure and reporting practices, activities, and workers, governance, strategy, policies, practices, and stakeholder engagement. "Material Topics" cover the organisation's most substantial effects on the economy, environment, and people.
• Sector standards – These standards help organisations to provide a deeper understanding of the material issues related to a given sector, such as oil and gas. They identify the relevant disclosures to be reported. Where a sector standard exists, an organisation is obliged to apply it in reporting.
• Topic standards – These standards are used with Universal standards to focus on specific issues [15] such as waste, occupational health and safety, and tax.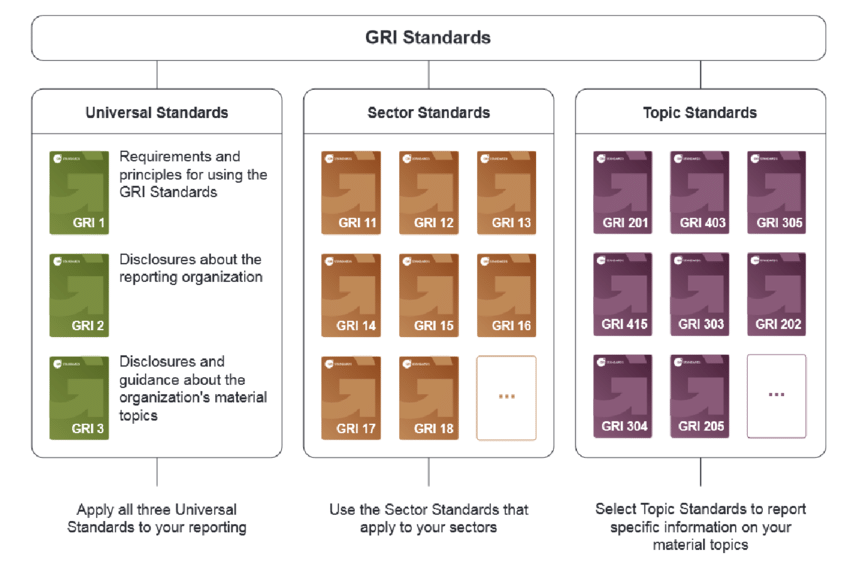 If a company wants to claim it has prepared a report in accordance with GRI standards – there are two options (Core or Comprehensive). Each option has specific criteria, and the reporting company needs to meet all criteria for the option chosen and include a GRI index. [16]
Applying the GRI reporting framework ensures that companies avoid "green-washing". It is a thorough system for assessing all the factors impacting sustainability – people, the environment, business, and climate. Trying to magnify or spin environmental feel-good achievements that are not based in reality create the risk of a rebound, where a company can lose any credibility and its efforts to appear engaged in the sustainability discourse backfire. Following GRI standards demonstrates a commitment to accurate disclosures and authentic change.
Our Sustainability Reports
At Summertown, we are passionate about building a more sustainable future and have embedded sustainability into our processes, policies, and management practices, which form the foundations for our sustainability and business strategy. This September we released our 7th annual Sustainability Report, which meets the GRI core option.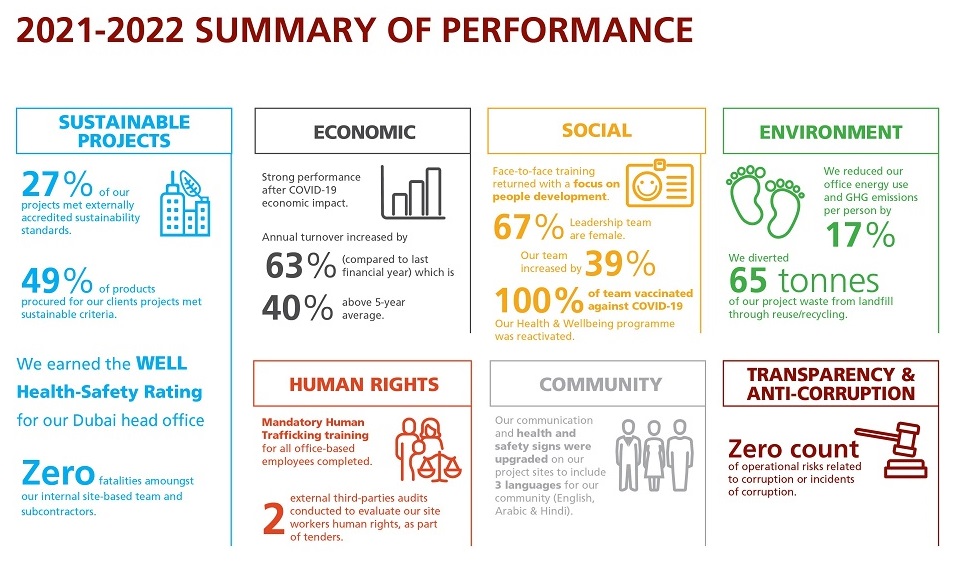 Highlights include:
Sustainable Projects

27% of our projects met externally accredited sustainability criteria
49% of products sourced for clients were sustainability procured
We were awarded the WELL Health & Safety Rating for our Dubai offices

Environmental

17% reduction in office energy usage and GHG emissions per person
65 tons of project waste diverted from landfill through reuse or recycling

Social

Mandatory human trafficking training was completed for all office-based staff
2 external party audits evaluated site workers' human rights as part of tender process
Resumption of face-to-face training
67% leadership team are female
39% increase in headcount
100% Covid vaccination rate

Economic

Annual turnover increased by +63% compared to the previous year
Turnover was 40% above the 5-year average
Starting your Own Sustainability Reporting Journey
We've established that sustainability reporting is not just something good to have, but it is rapidly becoming a priority for any organisation that wants to attract clients and talented employees, improve its corporate perception, and abide by regulatory environmental and social guidelines. But sustainability reporting involves much more than preparing a report, it enables purpose-driven organizations to set goals, measure their performance, be transparent, and report on their impact and share their sustainability initiatives.
Key Steps in Developing Effective Sustainability / ESG Reporting [17] [18] [19]
Strategy Definition
Sustainability reporting needs to be based on an organisational sustainability strategy and the key issues with the highest impact on a company's business and stakeholders. It is not just about identifying metrics and reporting on them – it is a deep-rooted reconsideration, sometimes a re-engineering of core business processes. What a sustainability report does is deliver a company report card – evaluating its progress in implementing a sustainable, long-term strategy.
Setting and Monitoring Goals or Targets
Developing a strategy means understanding the current situation, material topics, internal and external stakeholders' concerns, and the impacts of the business. Companies track their improvement by setting metrics, or performance indicators based on their material topics. This needs to be done in a transparent manner. Adopting a generally accepted reporting framework, like the GRI, will help you organise your efforts in an effective way. There is a growing global trend toward the codification of reporting standards. In some regions, there will be an enforcement of sustainability reporting as is the case in the EU with the Corporate Sustainability Reporting Directive (CSRD). CSRD expands on the already existing non-financial reporting requirements. Organisations will now be obliged to provide more detailed reporting on sustainability issues. The corporate sustainability reporting standards will begin rolling out in 2024.
Gathering and Analysing the Data
Unlike financial data, gathering information on sustainability is not straightforward; it does not reside in one domain or department. Much of what you will disclose involves uncovering the stories underlying your business' operation and stakeholders. If a company chooses to follow a standard such as GRI, you need to ensure that all the data and information required for disclosure is collected to meet the standard.
Where and how are you sourcing materials? Where and how are you disposing of waste? How are you contributing to the external community? How are you caring for the health and well-being of employees? Analysing and explaining these stories' information requires reflection and thinking. It also means providing both qualitative and quantitative data.
Writing and Review Process
The last phase of the process is one of the most important, and you may need the help of an external expert consultant if you are adopting a standard like GRI. The written report must disclose all the information required if you are following a standard (which includes an index) and be written in a compelling and interesting fashion – including if possible, images and infographics.
Prior to publishing, the report needs to be reviewed and validated by all the concerned internal parties – including senior company executives. During the review process, there will be a final validation of the data, as well as a confirmation that the data disclosed reinforces the report message (relevant, complete, and truthful). The messages of the report must also be endorsed by management as they express the organisation's actions, and commitments, toward sustainability.
Finally, the format of the report should include a digital PDF and the release should include channels (social media, webinars, press release) that reach key internal and external stakeholders – clients, employees, partners, investors, government, and suppliers.
Summertown, Sustainability & You
Our approach to sustainability is integrated into our business strategy, ethics, and governance. We define and identify sustainability as managing the environmental, social, and economic impacts of our business on society and the planet in a responsible way. Our business mission is to consistently deliver high end sustainable interior projects on time and within budget which help our clients achieve their environmental goals, provide inspiring workplaces that enhance employee wellbeing and happiness, and deliver operational savings.
In 2019, we launched our own sustainability goals "JOURNEY2030", setting ambitious targets for us in terms of project sustainability, employee happiness, and waste management. All this means that we have both experience and know-how in sustainable business practices. Reach out to us today to discuss how our sustainable interior fit out solutions can help you improve your water and energy usage, reduce your carbon footprint, and enhance your employees' happiness and well-being.
References:
[1] https://www.investopedia.com/articles/investing/100515/three-pillars-corporate-sustainability.asp
[2] https://sustainlab.co/blog/what-can-AI-tell-us-about-sustainability-reporting
[3] https://assets.ey.com/content/dam/ey-sites/ey-com/en_gl/topics/sustainability/ey-the-future-of-sustainability-reporting-standards-june-2021.pdf
[4] https://www.ga-institute.com/research/ga-research-collection/sustainability-reporting-trends/2021-sustainability-reporting-in-focus.html
[5] https://greenbusinessbureau.com/esg/esg-reporting-and-sustainability-reporting/#:~:text=ESG%20vs%20sustainability%3A%20Understanding%20the,%E2%80%93%20Brightest%2C%20Defining%20ESG%20vs
[6] https://greenbusinessbureau.com/topics/sustainability-benefits-topics/esg-and-sustainability-your-101-guide-for-understanding-corporate-sustainability/
[7] https://www.brightest.io/esg-sustainability-difference
[8] https://www.globalreporting.org/media/jzylu3ek/the-value-of-sustainability-reporting-and-the-gri-standards.pdf
[10] https://www.sasb.org/standards/download/?lang=en-us
[11] https://www.ifrs.org/news-and-events/news/2022/03/issb-delivers-proposals-that-create-comprehensive-global-baseline-of-sustainability-disclosures/
[12] https://www.sasb.org/standards/download/?lang=en-us
[13] https://www.ifrs.org/news-and-events/news/2022/06/issb-and-gri-provide-update-on-ongoing-collaboration/
[14] https://www.forbes.com/sites/bobeccles/2022/04/07/why-collaboration-by-ifrs-foundation-and-gri-is-a-progressive-step-for-corporate-transparency/?sh=233d09291941
[15] https://www.globalreporting.org/standards/
[16] https://www.globalreporting.org/standards/media/1036/gri-101-foundation-2016.pdf#page=22
[17] https://sustainlab.co/blog/5-steps-to-write-an-impactful-sustainability-reporting
[18] https://www.esgthereport.com/what-is-esg/the-g-in-esg/how-to-write-a-sustainability-report/
[19] https://www.weforum.org/agenda/2021/06/sustainability-reporting-five-ways-companies-should-prepare