World Day for Safety & Health at Work: What's at Stake & Why it Matters
Every year on 28th April, the International Labour Organization (ILO), a United Nations agency commemorates World Day for Safety and Health at Work. This year, ILO has published a report ahead of 28th April, "Safety and Health at the heart of the Future of Work: Building on 100 years of experience". This is to focus attention on the need for coordinated action by stakeholders to deal with the emerging health and safety issues at work. The report argues that the world of work is changing significantly. Demographic, technological and environmental conditions are transforming working environments, leading to new occupational health and safety (OSH) issues. The ILO estimates that:
"Stress, excessively-long working hours and disease, contribute to the deaths of nearly 2.8 million workers every year, while an additional 374 million people get injured or fall ill because of their jobs. " [1]
Commenting on this, Manal Azzi, ILO Technical Specialist on Occupational Safety and Health has stated that:
"As well as more effective prevention for established risks, we are seeing profound changes in our places and ways of working. We need safety and health structures that reflect this, alongside a general culture of prevention that creates shared responsibility". [2]
Office workers are more likely to face psychosocial risks, work-related stress and non-communicable diseases such as circulatory and respiratory illness and cancers than workers in other sectors. We have discussed previously the importance of integrating employee happiness and well-being into office fit-out and working practices. Numerous studies have shown the link between employee health and wellness, and business productivity. Workplace happiness, and employee wellness depend on many of the same conditions required for OSH, such as safety, health and comfort.
Workplace Safety: Awareness, Culture, Processes & Practices
Office environments can seem intrinsically safe, compared to high risk locations like oil fields or construction sites. While office workers are at lower risk of workplace injuries than workers engaged in physical labour, it is vital not to under estimate the risks they face. In the worst-case scenarios, office employees may be exposed to life threatening situations. At the very least, some office risks can significantly decrease the quality of life of affected workers.
A safe working environment is a prerequisite to employee well-being. What is needed is to create a culture, shared by employees and management alike, where concerns and standards related to safety and health can be shared; and where people are aware that they are responsible for adhering to and improving upon OSH standards in their workplace.
This working environment is built upon the initial set up of the office, fit out, furnishing, materials, equipment and layout. This is the essential first step that provides the necessary conditions for health and safety. The next step is to create systems and policies for health and safety. Employees have a key role to play in identifying potential safety issues and helping to act on them. For workplace safety to be effective, employees must be aware of unsafe behaviours so that they can avoid them.
Summertown's Top Tips to Improve Office Safety
2019's World Day for Safety and Health theme is all about fostering a safe and healthy culture at work. This will help to prevent accidents and avoid work-related injuries. Here are some of our top tips for employees and employers alike.
What Employers Should Do
1.   Implementing High Quality Interior Fit Out
Employers should make every effort to provide a safe working space by undertaking proper interior fit out, or retro-fit, complying with all relevant country regulations and accepted industry best practices, including:
Level flooring and non-slip surfaces to reduce accidents and falls
Non-VoC materials and furnishings cutting down on toxic and allergic reactions
Flame retardant flooring, wall coverings
Proper indoor ventilation systems to reduce air-borne illnesses
Workstation audit to ensure that equipment, seating and desks are ergonomically designed and safe for long-term use
Assigned areas for office machinery
Assigned areas for cooking, coffee or tea making
Safety-aware layout including readily accessible and labelled emergency exits and fire doors
High quality electrical cabling and wiring which are not accessible to employees
High quality plumbing work to avoid leaks and drips that can lead to mould
Fire alarms and automated sprinkler systems, where possible
2.   Workplace Safety Culture and Policies
Employers should work on communicating a safety awareness culture in the office. This can include clearly communicated safety procedures such as:
Safety procedures manual accessible to all employees
Main safety regulations posted at key locations
Office tidiness culture – ensuring files, boxes and materials are put away and stored to cut down on clutter
First Aid training for employees
Emergency Evacuation Drills
Fire Safety Awareness training
Accessible fire equipment such as fire blankets and fire extinguishers
Routine safety checks to ensure exits are unimpeded and equipment is maintained
Encouraging employee engagement, including assigning evacuation officers, first responders, and more
Instituting well-known safety issue reporting channels or processes
Undertaking regular risk analysis and updating crisis management procedures in case of different possible scenarios such as fire, power outage, and so on
3.   Reducing Workplace Stressors
We've discussed the various initiatives that companies can take to create a healthier working environment and to promote wellness and well-being among their employees. Many of these initiatives also contribute to a safer office, including:
Wellness programs and campaigns including medical checks, information about better nutrition and incentives to undertake regular exercise
Reducing noise
Providing good lighting and ventilation
Providing employees with customisable comfort controls for lighting and temperature
Creating privacy zones for concentrated work and break out areas for collaborating
Setting aside space for refreshment and relaxation, and encouraging employees to take regular breaks
Developing policies to encourage healthier work/life balance including remote working arrangements
Using technology to cut down on routine tasks and to facilitate productivity
Discourage unwell employees from coming to the office, because of risk of spreading cold or flu germs and viruses
What Employees Should Know and Do
A great deal of the responsibility of maintaining health and safety in the office environment falls on the shoulders of employees. Here are some of the main things employees should be aware of and some of the main attitudes they should adopt to safeguard their own safety and that of their colleagues.
Be aware of your surroundings – slips and falls are some of the most frequent causes of injury in offices. People working in an office may be twice as likely to be injured by falling than workers in other environments. Being alert and planning can help to avoid these kinds of risk. [3]
Take care of your body.

Ensure that working areas allow one to maintain proper posture and avoid repetitive strain injuries from keystroking or eyestrain.
Be aware of how you are sitting and make sure that you are sitting in a way to minimise back strain, by keeping both feet on the floor, back supported.
Avoid heavy lifting of files, boxes and so on. When it is necessary to move equipment or materials, use an office trolley

Take regular breaks – many workplace accidents take place when an employee is tired or distracted. Taking regular breaks helps one stay fresh and alert.
Maintain an upbeat demeanour and try to cut down on stress which is one of the main causes of office employees' health issues.
Use office machinery according to instructions and take reasonable precautions.
Treat electricity with respect. Refer changes to wiring or electrical connections to those responsible. Never plug in multiple devices into one outlet.
Be responsible in kitchen or pantry areas especially when dealing with stoves, hot plates, microwaves, coffee machines and boilers.
Keep emergency exits and fire door access open and unimpeded by plants, file cabinets or furniture.
Participate in all safety drills, and first aid trainings to be prepared in case of any emergency.
Take the time to know your office emergency procedures: Make sure you know what to do in the event of a fire, storm, violent intruder, medical problem or other emergency situations.
Report unsafe conditions or potential risks to those responsible in the office and follow up if no action is taken.
Summertown's Commitment to Improving Safety and Health for Employees Everywhere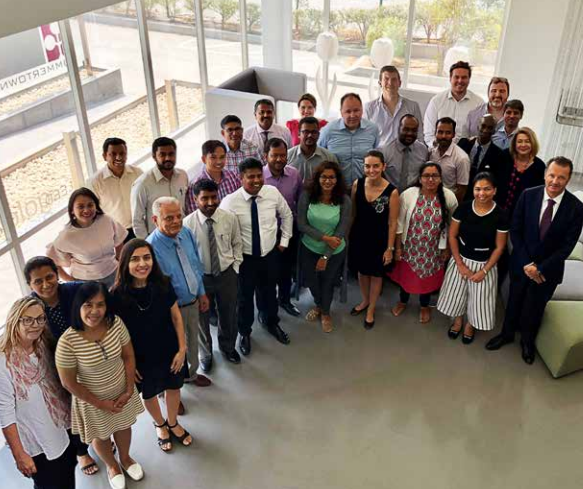 Summertown supports the World Day for Safety and Health at Work because of its determined commitment to all initiatives that improve employee health and well-being, and benefit environmental sustainability. We practice what we preach, by beginning our advocacy and efforts at home.
The Health and Safety of all our employees is of the utmost importance to us at Summertown. We take a proactive approach to ensuring the work environment safe including monthly machine routine maintenance, monitoring and recording safety observations and near misses, providing appropriate personal protection equipment and empowering staff through training.
Central to our approach to health, safety and the environment (HSE) is our Summertown HSE Committee; this comprises eight representatives from senior management and project teams.
The HSE committee is responsible for:
Managing and controlling the procedures and policies to ensure site safety throughout Summertown's sites
Reviewing current practices and providing feedback to inform future H&S decision-making
Monthly meetings to review or update any regulations or procedures as required by UAE Construction HSE Laws
Monthly reporting to the Summertown Corporate Team [4]1

In April 2019, we attained ISO 45001:2018 Occupational health and safety management systems certification – the highest internationally recognised occupational health and safety standard.
"The standard was developed by a committee of occupational health and safety experts and follows other generic management system approaches such as ISO 14001 and ISO 9001. It will take into account other International Standards in this area such as OHSAS 18001, the International Labour Organization's ILO-OSH Guidelines, various national standards and the ILO's international labour standards and conventions."[5]
 Summertown Interiors has already in place a quality management system and is certified for ISO 9001:2015 Quality Management System. The addition of the ISO 45001:2018 standard will also ensure we have the systems in place to maintain our exemplary health and safety record.
We are proud to be one of the first UAE-based companies to be awarded this certification, which stresses on the importance of creating a safety culture at work and engaging employees in creating a better working environment for everyone.
Check in with us today to discuss how we can help you plan for an office where all employees are happy, productive and safe.
References:
[1] https://news.un.org/en/story/2019/04/1036851t
[2] https://moderndiplomacy.eu/2019/04/20/new-safety-and-health-issues-emerge-as-work-changes/t
[3] https://safety.lovetoknow.com/Office_Safety_Tips
[4] https://www.summertown.ae/wp-content/uploads/2018/09/2017-18-Summertown-Sustainability-Report-low-res.pdf
[5] https://www.iso.org/iso-45001-occupational-health-and-safety.html