The start of Expo 2020 Dubai has been momentous. Not only has it brought an economic upturn to the United Arab Emirates (UAE) and GCC region, but there is also a wealth of knowledge on display. For Summertown, this has been invaluable, looking toward the future of sustainability with more than 120 permanent buildings, including Terra – The Sustainability Pavilion, and the UAE pavilion, across Expo 2020 Dubai having attaining LEED (Leadership in Energy and Environmental Design) certification from the United States Green Building Council (USGBC). We see the success of Expo as a testament to the UAE in visioning the potential of this global platform, speaking to the idea of 'connecting minds, creating the future'.
More than 120 permanent buildings at Expo 2020 Dubai have been LEED certified by the United States Green Building Council[1] including pavilions and facilities such as the site's fire and ambulance stations. Upon closure of Expo in March 2022, LEED-certified buildings will live on, with most of the sustainable district due to be repurposed. As a company that drives green interiors and LEED accreditation within buildings, we are glad to see Expo 2020 championing the certification. We pride ourselves in offering clients with interior projects of 2,000sqm or more, free LEED certified level certification in a bid to strengthen Dubai's buildings to help reach a smart-city status.
Situated in the Expo 2020 sustainability district is the Netherlands pavilion, "designed as a biotope, a circular climate system that brings together Dutch innovative solutions to unite water, energy and food"[2] where our Managing Director, Marcos Bish was recently given the opportunity to speak as a panellist at the Netherland Business Council discussion on sustainable developments in urban design. This opportunity was a privilege to, not only be able to take part in an important discussion but also to be recognised as a leader in sustainable interior fit out and design and build solutions.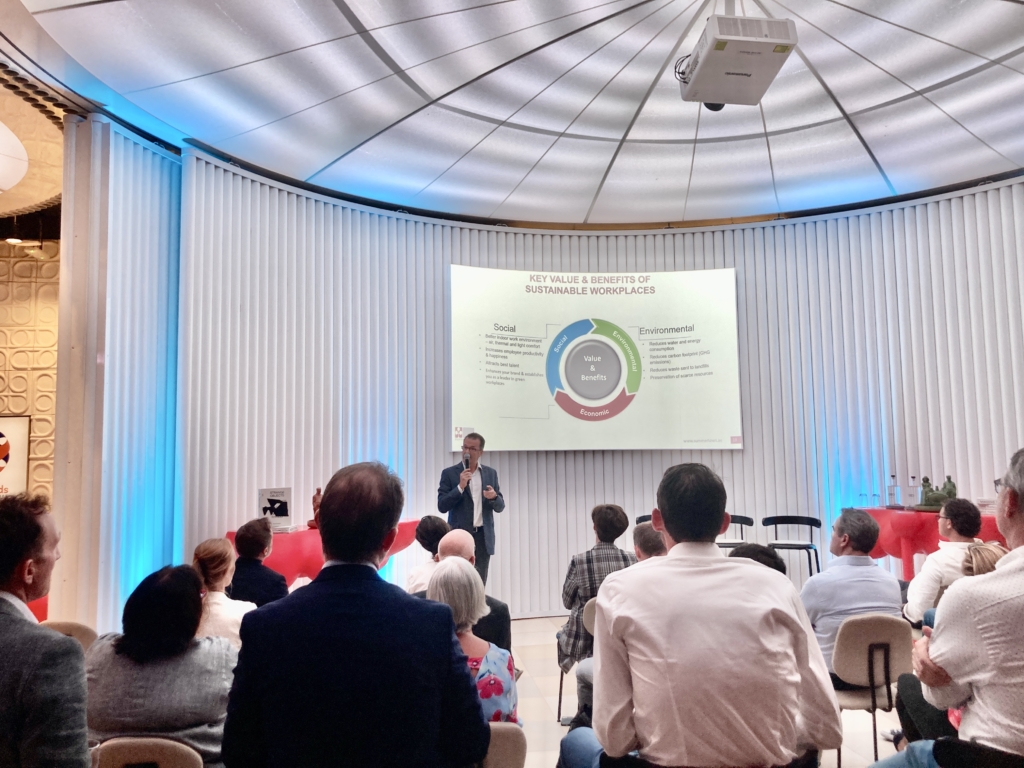 Marcos spoke about the post-covid climate, specifically in the UAE and the impact work-from-home culture placed on the built environment when it comes to sustainability. Due to rapidly shifting consumer demands, businesses had to respond reactively, which often meant not with sustainable practice. However, as we settle into a hybrid-working world, we are able to focus on the new needs of the built environment, reduce consumption and waste and streamline our processes.
Following this event, our whole team visited the Netherlands pavilion and were privileged to hold our bi-annual 'team talk' in the business lounge of the pavilion, enabling our team to see first-hand the biotope and sustainable materials. After the Expo concludes, the Netherland pavilion's will disassembled and all the building materials will be repurposed or recycled locally as part their circular plan.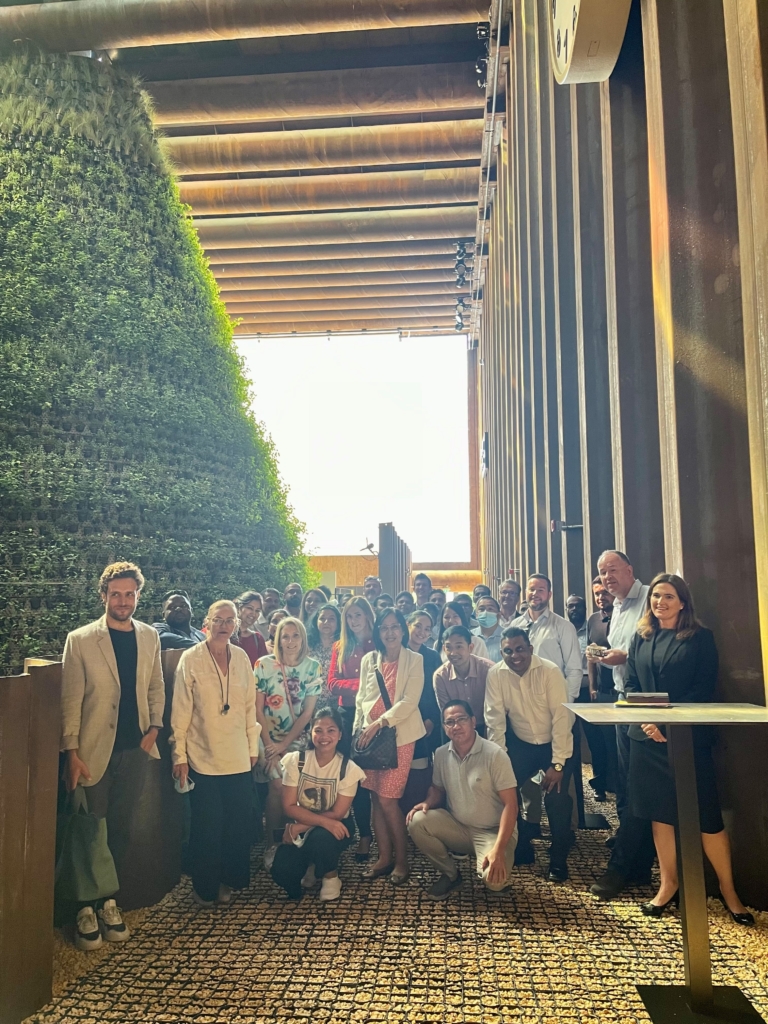 Expo 2020 has given significant acknowledgement to the importance of sustainability – the sustainability district, one of the three themed districts, and the number of LEED certified buildings demonstrates this. Further attention will be given towards this during dedicated theme weeks, including the Abu Dhabi Sustainability Week in mid-January 2022, which aims to accelerate sustainable development – enabling an informative look to the future of the region. A message that we support and will encourage.
Looking beyond what Expo has to offer over the six-months, 80% of the site is set to be repurposed – a nod to realistic sustainable goalsetting for the future of urban design. A new district will be built on the site to continue the connection of minds, in creating the future, by creating a technology-driven ecosystem[3]. Summertown Interiors aims to position itself as a partner within these forward-thinking projects, offering support to ensure a better future.
One of Summertown's JOURNEY2030 ambitions is to deliver 100% sustainable developments by 2030, well-aligned to support the UAE with its net-zero by 2050 target. The exposure Expo has given to sustainability as an important movement, from hyper-local achievements to global advancements, has been exciting for Summertown. A greener future is well underway for the region and the UAE is in a good place to lead further global nations. We're proud to be a home-grown sustainable business supporting the country to achieve its sustainability goals.
To learn more about LEED certification read our quick guide on LEED certified interiors.
---
[1] https://www.usgbc.org/projects/expo-2020-dubai-fire-station
[2] https://dutchdubai.com/discover-the-pavilion
[3] https://www.expo2020dubai.com/en/understanding-expo/after-expo2020