LEED, or Leadership in Energy and Environmental Design, is the most widely used green building rating system in the world. [1]
Your Journey to a Greener Office: Why it Should Include LEED Certification?
At a global level, buildings and the construction industry are jointly responsible for nearly a third of energy-related CO2 emissions in 2018. [2] Transforming commercial and residential buildings and adopting sustainable design, construction and fit out approaches is one of the major actions we can take to tackle climate change. The UAE has placed combating climate change as one of its core objectives, even renaming the Ministry of the Environment as the Ministry of Climate Change and Environment and expanding its mission to implement comprehensive programmes to protect the UAE's unique environment and to reduce the impact of climate change. The Green Agenda 2030 specifically addresses sustainable building and construction.
If you are a UAE-based company, project developer or owner, you will be aware of the multiple initiatives undertaken by the government to promote sustainable building and the various certification schemes. Wanting to be more environmentally-aware is not just an ethical choice for business; it is becoming an operational necessity. In previous posts, we've discussed the many benefits of sustainable office fit out. There are countless benefits to having a green office in terms of productivity, and profitability. " Green" certification is important because it ensures that contractors are complying with all the relevant local regulations and international standards for a sustainable build and that there is an objective third-party verification. LEED (Leadership in Energy and Environmental Design) is one of the most popular and wide-spread green building rating systems in the UAE and globally. [3]
In 2017, Core Savills identified over 550 projects in Dubai undergoing LEED certification. At that time, Dubai was one of the top 10 countries with the most LEED projects (outside the US). [4][5] The UAE is a trailblazer in terms of environmental action in the region. For example, in April 2019, it was announced that Dubai is the first city in the region to receive the highly prestigious LEED for Cities Platinum certification. [5] The LEED City rating is measured across 14 metrics relating to the energy and water sector, waste treatment, transportation, human experience, education, prosperity, equality, and health and safety. The intent of the rating is to encourage all cities to measure and improve performance, and focus on the effects of ongoing sustainability efforts.
As humans, living in modern developed economies, we spend much of our time indoors. On average, Americans spend 87% of their time inside buildings and an additional 6% in vehicles. [6] Improving conditions in buildings can have a measurable impact on occupant health and well-being. According to the IEA (International Energy Agency), the buildings and building construction sectors are together responsible for 36% of global energy consumption and nearly 40% of CO2 emissions. [7] Any sustainable interventions to reduce energy consumption and CO2 emissions have to include changes to the ways we construct and inhabit buildings. LEED, as the most widely known green building certification, can help companies and contractors improve human health, increase productivity and reduce negative environmental effects.
Everything You Need to Know About LEED
What Is LEED (Leadership in Energy and Environmental Design)?
The US Green Building Council (USGBC) is a non-profit organisation that was one of the first initiatives to address the need for a green building standard by developing LEED – an independent verification system for green building. Beginning in 1998, LEED has evolved from: "…one standard for new construction to a comprehensive system of interrelated standards covering aspects from the design and construction to the maintenance and operation of buildings". [8]
LEED is a point based green building rating system certified by US Green Building Council, and has synergy with other external best green building practices (e.g.  ISO, ASHRAE, Cradle to Cradle and WELL). There are four levels of LEED certification based on points awarded – Certified, Silver, Gold and Platinum being the highest level of certification.
LEED certification provides evidence from an independent third party that a building was designed, constructed, fitted out or maintained to improve environmental performance. The certification can also help to guarantee that projects have been implemented or maintained at the highest levels of sustainability.
How Does the LEED Rating System Work?
The latest LEED rating system is grouped into five main categories or project types. This classification helps to organise the processes and documentation for each project type. The rating system can be applied both to new construction and existing buildings.
Building Design and Construction
Interior Design and Construction
Operations and Maintenance
Homes
Neighbourhood Development
Interior Fit-Our Project Type Example – 'ID+C Interior Design and Construction'
ID+C Interior Design and Construction is the LEED project type specific for interior spaces applicable to commercial, retail and hospitality sectors.  It is particularly useful for tenants who don't own the buildings they occupy or owners who cannot modify the exterior. "LEED for Interior Design and Construction (LEED ID+C) enables project teams who may not have control over whole building operations to develop indoor spaces that are better for the planet and for people." [9]
In January 2019, the USGBC introduced a new version of the LEED system, LEED v4.1 which includes a new LEED v4.1 ID+C version. "The hallmark of LEED is 'continuous improvement' – and that is exactly where we are going with LEED v4.1," said Mahesh Ramanujam, president & CEO, USGBC. "LEED v4.1 is set to raise the bar. It is the most comprehensive, collaborative, accessible and effective LEED system to date. From improving energy performance to emphasising human health and integrative building design, LEED is encouraging project teams to operate beyond the status quo." [10]
Each project has category has pre-requisites (mandatory) and credits (earn points). LEED ID+C v4.1 has 8 credit categories – integrative process, location and transport, water efficiency, energy and atmosphere, materials and resources, indoor environment, innovation and regional priority. (figure 1.0). The total points awarded by USGBC across all credit categories determines final certification level (certified, silver, gold or platinum).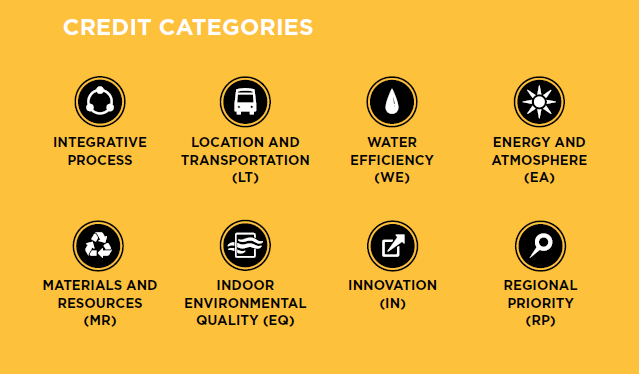 Figure 1.0
What Do the Different LEED Certification Levels Mean?
There are four LEED certification levels awarded based on the total number of points earned. The more points earned, the higher the rating:
LEED Certified™: 40-49 points earned
LEED Silver®: 50-59 points earned
LEED Gold®: 60-79 points earned
LEED Platinum®: 80+ points earned [11]

How to get LEED certified?
USGBC has a web-based service, LEED Online, that allows project teams to fill out credit forms and to submit supporting documentation online. There are four steps to acquire LEED certification:
1. Project Registration
a. Pay registration fees
b. Select the appropriate LEED rating system for your project and check minimum requirements
c. Completing required forms and preparing necessary documents
2. Application
a. Submitting completed certification application
b. Pay certification review fee
3. Review
a. Green Business Certification Inc. (GBCI) reviews LEED application
4. Certification
a. Certification decision and rating is issued [12] 
How long does LEED certification last?
LEED Certification is a one-time grant, based upon a one-time review. In certain circumstances, LEED certification may be challenged and revoked. "The Certification Challenge Policy may be initiated by GBCI or any third party within 18 months of a project's certification where an owner is advised to maintain all associated records through that period". [12]
Only LEED EBOM for Existing Buildings: Operations & Maintenance certification must be renewed/recertified every 5 years.
Why is LEED certification important?
LEED certified interiors deliver social, economic and environmental value and benefits to an organisation and its people. See circular chart below for details. (Figure 2.0)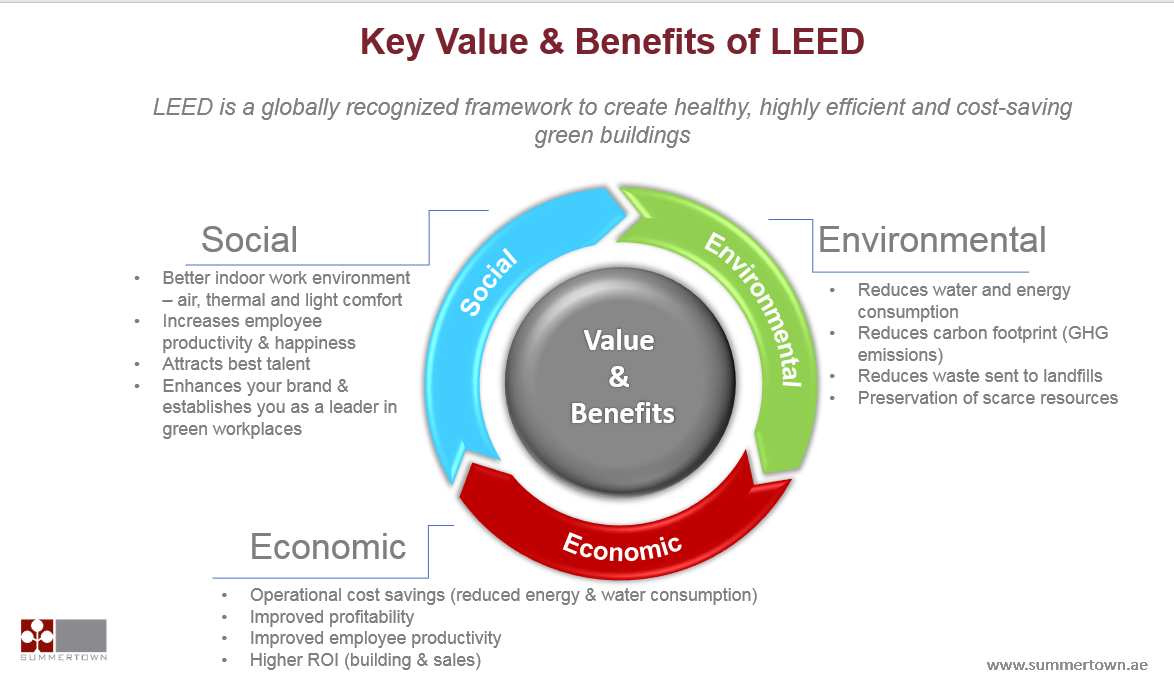 Figure 2.0
Are LEED buildings more efficient?
In "The Business Case for Green Building", the USGBC observed that: "Owners of green buildings reported that their ROI improved by 19.2% on average for existing building green projects and 9.9% on average for new projects". LEED-certified buildings can use 25% less energy. Aggregate operational costs can be reduced by around 19% compared to non-certified buildings. Overall, LEED Certified buildings help to control resource consumption, reduce emissions, waste and pollution. Occupants of LEED offices are generally healthier and more motivated, which contributes to a better company bottom line.
Does LEED certification increase property value?
According to the USGBC, a business case study for the San Diego real estate market showed that vacancy rates for LEED certified buildings were lower when compared to non-certified ones. [13] At the same time, LEED properties command higher rents. The Institute for Market Transformation (IMT) and the Appraisal Institute estimated that the rental premiums of LEED commercial buildings can be as high as 27%. [14]
LEED Certified Interiors in the UAE
LEED is the most popular green building certification in the UAE. As of May 2019, the EGBC (Emirates Green Building Council) reported that there was a total of 1,599 LEED registered projects in the country. [15]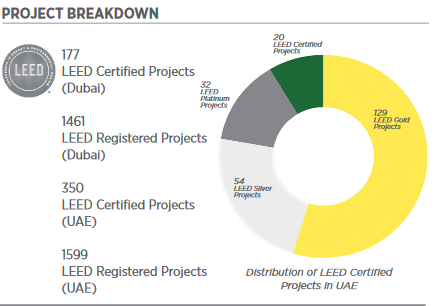 Some examples include Summertown Interiors' own headquarters and showroom in Jebel Ali Free Zone, Dubai. Summertown was the first fit-out contractor to occupy LEED Gold certified interiors in the UAE, and has also been awarded the LEED gold certification for its existing building; operations and maintenance (LEED EBOM).
Why Choose Summertown for your Interior's LEED Certification?
Summertown Interiors is not only one of the most experienced sustainable fit out and design and build companies in the region but an enlightened advocate for environmental approaches. We believe environmentally sustainable approaches to office design and fit out are not just an add-on feature. We hope green offices become the norm in the commercial sector in the UAE and believe this will happen with the UAE government regulations pushing this forward, as well as increasing environmental awareness among business owners and tenants.
We have more than a decade of LEED project experience, and have executed numerous LEED certified interior projects. We also help and advise clients, partners and the wider business community on how to integrate sustainable principles within operations. We practise what we preach. Our own offices and operations showcase our commitment to a creating a greener, healthier, more productive working space
LEED Certified Projects
A selection of LEED certified interior projects executed by Summertown:
Smart Dubai is an initiative to transform the region into the world's smartest city by 2021. The Smart Dubai Office project designed by DWP and implemented by Summertown was awarded LEED Gold certification. Summertown managed the build process sustainably, taking measures to reduce environmental impact including:
Recycling around 50% of waste
Sourcing 31% of project materials sustainably
Daily tracking of energy and water consumption
Organising regular onsite client workshops as part of progress reporting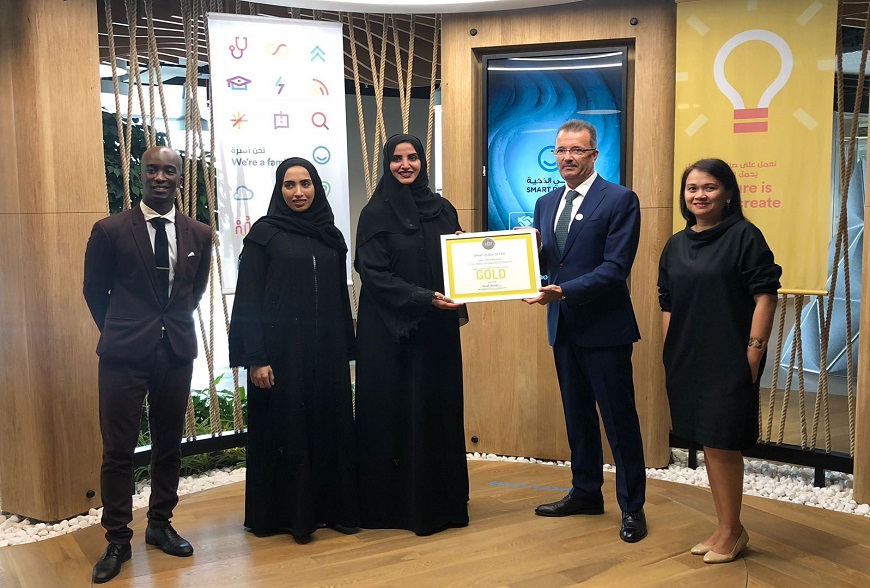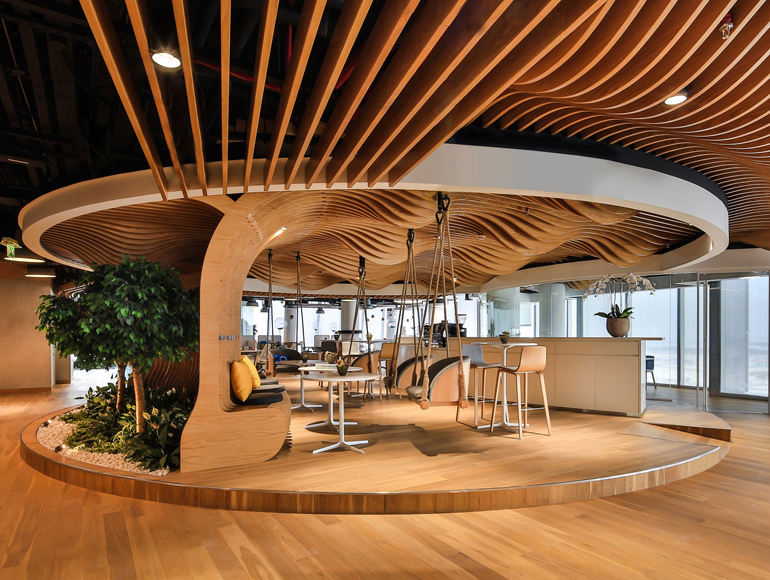 Located in Dutch Design Center in the heart of the Dubai Design District (d3), Ahrend is an international leader in office furniture that achieved LEED Gold certification for its Middle East HQ. Designed by Ahrend and in keeping with its global design guidelines, Summertown Interiors was selected to work on their office project due to its green credentials and 100% success rate on the delivery of LEED certified interior projects in the UAE.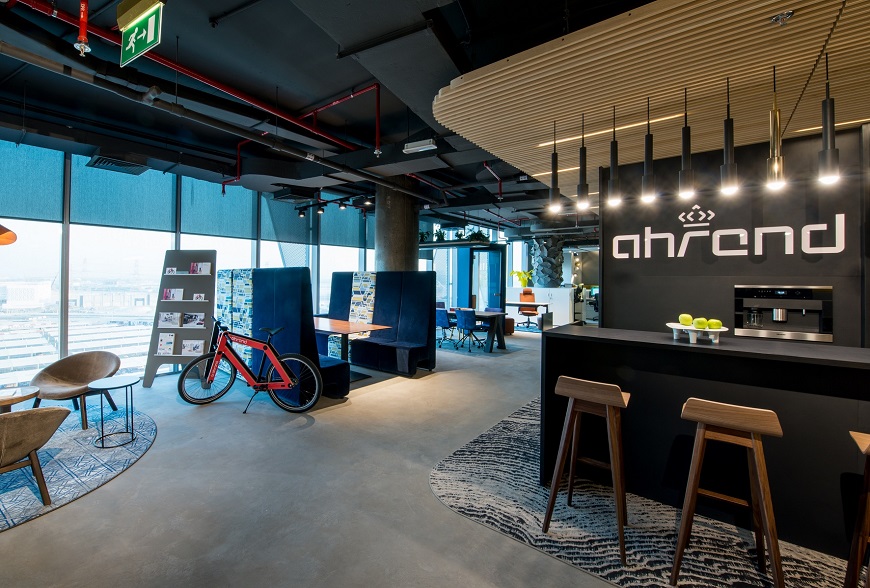 Government Office (Confidential)
This year Summertown was commissioned by a large government authority to undertake a phased fit out that includes demolishing the existing office and implementing an entirely new fit out according to LEED criteria. The objective is to achieve LEED Gold level certification, which is 2nd highest level of the world's most widely used green building rating system.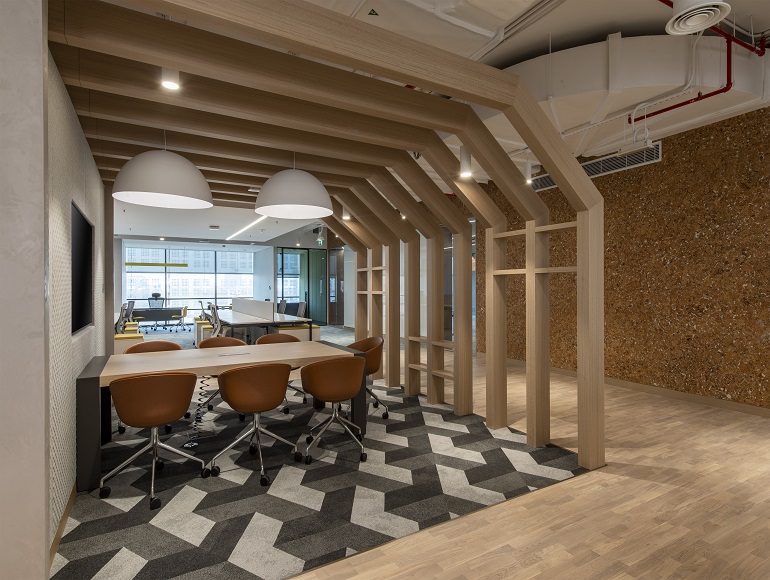 Raising the level of LEED certified interiors in the UAE
As part of Summertown's new 'JOURNEY 2030' sustainability ambitions, we are offering free LEED certified level certification for projects over 2,000 sqm. For projects under 2,000 sqm, Summertown has developed its own ECO-Sustainable Summertown Interior Certification (ECO-SSI), which will also be offered free of charge.
Contact us today and find out how we can help you get LEED Certified Interiors.
References:
[1] https://new.usgbc.org/leed
[2] https://www.iea.org/tcep/buildings/
[3] https://www.arabianbusiness.com/dubai-ranked-third-in-list-of-most-green-buildings-in-world-677384.html
[4] https://www.ecomena.org/green-building-uae/
[5] https://www.usgbc.org/articles/infographic-top-10-countries-and-regions-leed-2017
[6] https://gulfnews.com/business/dubai-receives-platinum-rating-in-leed-for-cities-1.1555540236990
[7] /topics/energyefficiency/buildings/
[8] https://en.m.wikipedia.org/wiki/Leadership_in_Energy_and_Environmental_Design
[9] http://leed.usgbc.org/id-c.html
[10] https://www.usgbc.org/articles/usgbc-opens-registration-leed-v41-new-construction-and-interior-spaces
[11] https://new.usgbc.org/press/about-leed 
[12] https://new.usgbc.org/cert-guide/commercial
[13] https://www.greenbuildinglawupdate.com/2014/06/articles/leed/revocation-of-leed-certification/
[14] IBID
[15] https://www.appraisalinstitute.org/assets/1/7/Green-Building-and-Property-Value.pdf
[16] https://emiratesgbc.org/wp-content/uploads/2017/03/190509-Dubai-City-Brief-v4.pdf