1. How We Work Now: The Co-working & Collaborative Space Trend
Co-working is the new path of melding life and work in a sustainable fashion. It is the global linchpin at the intersection of real estate, technology and community, which will shape the way we work in the future. 

– The Coworker Lab [1]
Co-working is more than a Trend; It's a movement
What is co-working exactly? The term seems to have been used for the first time by entrepreneur Brad Neuberg to refer to the first shared office environment he established in San Francisco in 2005.  [2] After leaving his job in a tech start-up, Neuberg started to miss social aspects of office life. In a recent interview, he recalled: "I started asking myself, 'Why can't I combine the structure and community of a job with the freedom and independence of working for myself?' [3]  He started renting a space two days a week and made it available to others. The concept soon took off in San Francisco and around the world wherever there are large groups of young independent minded tech workers or "digital nomads", and it's still expanding today.
Co-working, the sharing of work facilities, by different individuals called "members", is a dynamic response to the new ways of working facilitated by the internet and by the technological revolution that has given rise to new types of creative, knowledge work. New economic arrangements are emerging requiring more flexible workforces. There is also a generational and demographic dimension to this change, as millennials prefer more flexible working arrangements; valuing their freedom but also seeking engagement with like-minded people. Workers in many different industries can work virtually anywhere now, using their smartphone, tablet or laptop. For many businesses, especially start-ups, this can dramatically reduce overheads. Many large corporations are also exploring the benefits of outsourcing core activities to contractors, part-timers and freelances to cut costs and to increase efficiency.
But working independently as a freelancer or remotely as a contractor can present many challenges to the individual. It can be lonely, alienating and frustrating. While technological advances have in some ways freed the knowledge worker, from a desk, an office, a hierarchy, this freedom has not been problem-free. Independent workers can suffer from a sense of isolation, the lack of a supportive professional network and a loss of the sense of community that comes with working alongside others. Work connections are not only important for professional reasons, but for social and psychological ones. The collaborative office is an innovative way to accommodate the need for a more flexible workforce, while providing emotional and professional support to workers. [4]
Co-working environments can offer much needed structure and continuity to independent workers. One comprehensive definition of this phenomenon is provided by an industry resource and is referenced by Wikipedia: "Co-working is a self-directed, collaborative and flexible work style that is based on mutual trust and the sharing of common core objectives and values between members". [5]
Collaborative Offices on Employees' Health & Well-being
While the number of co-working spaces is growing dramatically, corporates are also trying to get on the co-working, collaborative office bandwagon. In April 2017, in a first deal of its kind, IBM signed a partnership with Wework, the co-working powerhouse. Under this this deal IBM will move 600 of its full-time corporate employees to a WeWork space in Greenwich Village, New York. WeWork will be responsible for managing the entire space for a single client, while IBM will benefit from all the benefits of an efficiently run co-working environment. [6]  According to HBR: "The real revolution in co-working may have less to do with freelancers or startups than with employees of large companies working beyond the boundaries of their organizations". Dozens of corporates from disparate industries are experimenting with co-working and collaborative offices. [7]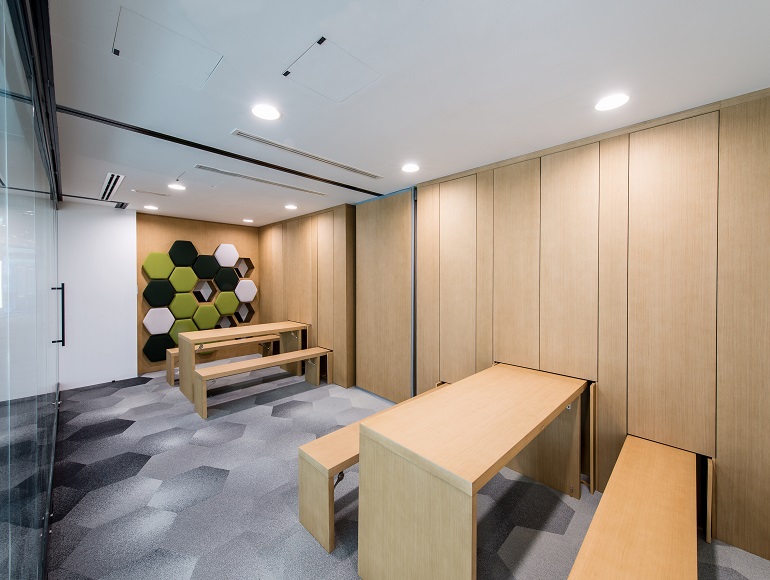 This shift in working culture is having an impact on commercial fit out and office design. Fit out contractors are not only responsible for understanding the different ways people work today, including remote work and activity-based working (AWB), and cross-functional teams, but with anticipating the direction of the new collaborative workspaces and office fit out trends. Businesses are becoming more interested in creating healthy, productive, employee focused working environments because of the demonstrable impact on increased efficiency and profitability. For this reason, many companies are adopting some of the characteristic features of co-working spaces, like open layout work areas, work tables, hot desks, etc., alongside more conventional solutions – so that we see the emergence of hybrid office fit outs. Workers expect to work differently in collaborative offices and that has a direct and significant impact on every aspect of design, from the floor plan to fit out, from lighting to furnishing.
The driver behind the growth of collaborative offices in the world's economic capitals lies in the needs of members for this kind of working environment, combining the freedom from traditional office structures with the advantageous of cooperating and interacting with like-minded people. An HBR article summarized several studies showing that co-working not only reduces the loneliness and disconnection often experienced by free-lance or remote workers, it also has concrete professional benefits including expanding their professional networks.
2. Top Design Trends in Co-working, Serviced and Micro Offices
Co-working is being talked about as a paradigm shift and a cultural transformation. Mainstream offices are becoming more collaborative due to the same changes that have given rise to the co-working space, so have micro-serviced offices. Some of the most interesting fit out and office design trends influenced by this technological and cultural shift towards co-working include:
Flexibility:The modern workforce is diverse, in terms of age, background and skill set. Even mainstream or "traditional" corporate set ups must integrate people working on different tasks and using different methodologies. This new office environment must be structured to accommodate diversity while fostering a sense of community. Flexibility and scalability therefore must be implanted in the office design and fit out process from the start. This may involve solutions such as moveable partitions or modular furniture and fittings, and so on.
Layout:The new collaborative office or co-working space must include a combination and variety of layouts to accommodate different working styles and changing space requirements. This may mean combining open plan with private areas, different sized and shaped meeting rooms and spaces for collaboration, as well as separate private working zones for individual and focused work. Hybrid solutions and design must be customized to suit the demands of each business.
Design Diversity: Co-working spaces tend to cater to a young demographic. The millennial aesthetic is functionally attractive, colourful but not overpowering, working casual, but always professional. This means using deft touches of colour and texture in fit out. For corporates,this can mean using subtly shifting moods between more and less formal working areas. Kitchens and dining areas can be brightly coloured and funky. Individual offices and concentration zones can be quietly elegant.
Technological Adaptability:The modern office requires seamless connectivity, providing internet access, and the most advanced telecommunication services, including video conferencing, virtual meetings, and more.
Employee Well-being & Productivity

Biophilic design: The integration of elements from nature improves human health and concentration. This includes plants, natural lighting and open window views.
Physical Comfort: Ensuring that employees are in the best frame of mind to concentrate means ensuring their acoustic and thermal comfort, as well as their physical well-being. Fit out features such as occupancy sensors for lighting, cooling and ventilation are important. Allowing employees some control over temperature is also desirable. Finally, using furnishings and equipment, such as sit/stand desks, and ergonomically designed work stations, can greatly improve employee health.
Breakout zones and Recreation Areas: One thing that has been learned from the co-working movement, is that people need time to decompress and recharge during the work Talking with colleagues or like-mined individuals can help with problem solving. Areas for rest, relaxation and brainstorming must be carved out because sometimes,the best ideas come up in casual conversations.
3. How Co-working Shapes UAE's Office Fit Out Industry
New technologies have broken the chains binding the employee to a chair, desk, and PC. Many of us can now work anywhere at any time. There are two inter-related trends at play: the rise in the number of freelancers, entrepreneurs and digital nomads, looking for efficient and attractive co-working spaces; and the adoption by mainstream companies of co-working methods and collaborative office design. This is having a significant impact on corporate real estate requirements and on the demands put on the commercial fit out industry.
The Collaborative Office: Growing International Demand
It may be that the traditional office environment, cubicles and separate offices is not going out of style any time soon. But co-working and the collaborative office space is becoming ever more popular with the expansion of the gig economy, freelancing and remote working arrangements. Some of the latest statistics and forecasts reveal that the demand for cooperative working spaces is growing exponentially:
Co-working Taking Off in the UAE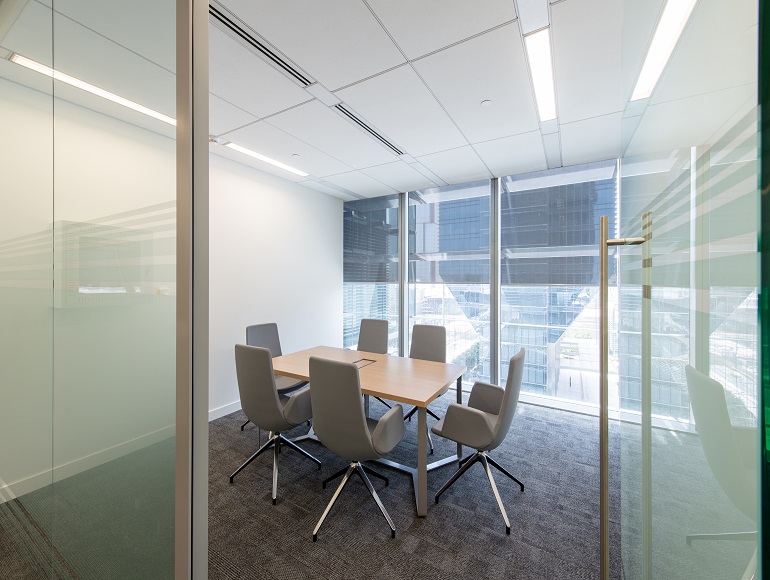 The UAE is a global economic hub, often at the cusp of emerging work trends. As the economy becomes more diversified and shifts away from a dependence on oil exports, we can expect a surge in demand for more flexible working options on the part of the young and talented workforce. As for companies, both start-ups and established corporates are becoming more aware of the benefits of co-working spaces, and micro-offices. According to a recent new study by International Workplace Group (IWG), the parent group of leading workspace companies including Regus, more UAE workers are working away from the office on a regular basis:
The shifting economic landscape in the UAE has also encouraged more companies to explore new ways of cutting costs through using substituting full-time staff with freelancers or short-term hirers. This has helped to stimulate the local "gig" economy. UAE experts estimate that there are around 100 thousand licensed freelances working per project or on short-term contracts. [12] There are already over 40 co-working spaces in Dubai alone to accommodate the growing number of freelancers, entrepreneurs and start-ups and this is influencing the entire fit out sector.
Business managers and owners are recognising the benefits of providing more flexibility and agile working arrangements. According to a survey from Bayt.com, 86% of UAE workers seek a better work-life balance when considering new job opportunities. This implies that attracting and keeping better talent involves providing more flexibility in working hours and working space. [13] Working in the UAE especially in the creative and knowledge fields requires companies to provide employees with more choices including flexi-working, remote working and co-working facilities and opportunities.
High rental costs and lack of sufficient rental stock makes office space one of the biggest overhead items for businesses and can be an impediment to start-ups. This is one of the key factors encouraging entrepreneurs to look for co-working arrangements or to rent micro-offices. For larger companies and multi-nationals, collaborative working spaces and micro-offices can be an extremely cost-effective way to accommodate shifting business needs without have to undertake expensive office re-fit or restructure every time a new project is launched. Companies also see the benefits of relocating project teams to micro-offices, where only the space needed can be rented for exactly the time required.
A recent column in Gulf News, penned by a co-working space owner and advocate argues that: "A world-class flexible workspace can support the local entrepreneurial ecosystem and aid economic diversification." Furthermore:
Large corporates like Etihad Airways, Diesel, MasterCard, Microsoft and Oracle have adopted a flexible workspace styles. [15] Adopting a flexible workplace strategy does not only boost employee productivity, but it helps businesses become more agile and more able to respond proactively to a rapidly evolving business environment. Commercial office fit out is a critical tool to increase any company's competitiveness and ability to compete while helping to manage costs [16].
4. Best Practices in Co-working Office Fit Out in Dubai: A Sampling from Summertown Projects
"Investing in workspace is no longer considered an extra cost, but a productivity investment that enhances an organization's overall success"
– Summertown Interiors 
Summertown Interiors is always ahead of the curve on emergent office fit out trends. In previous posts, we have discussed on how to create agile and activity–based office environments and the positive impacts these environments have on employee engagement and productivity. We have also been among the first local commercial fit out contractors to develop co-working spaces and collaborative and micro-serviced offices.
The Dubai Design District (d3) Business Center is a high-end workspace providing co-working facilities for contractors, entrepreneurs and start-ups. Space can be rented by the day, month or year. Summertown Interiors worked with the project managers from Tamdeen Group to create a unique working environment, combining communal areas with private individual offices. The Business Center incorporates a large public activity-based space with cleverly designed wooden terrace seating, trees and swings with abundant natural light. Hallways also have small semi-private work stations while a public collaboration room has folding benches and stools, as well as small micro-office studios to provide flexible working options. [17]
Abu Dhabi Global Market (ADGM) Micro-Offices
Located in ADGM Abu Dhabi's financial free zone on Al Maryah Island, the recently completed micro-offices  help start-ups and small businesses by providing smaller workspaces for rent. Summertown Interiors undertook the fit out of the new micro offices ensuring that the design is "simple, logical, clean and affordable". Start ups and companies with under 10 employees now have a "plug and play" option facilitated by ADGM. They can start to work immediately after completing commercial registration and licensing procedures with ADGM. [18]
5. Summertown Interiors – Your Best Partner for Collaborative Office Fit Out in Dubai and Abu Dhabi
Summertown has over 20 years of experience in delivering quality fit outs including co-working and collaborative workspaces. We work alongside architects and design firms to ensure that all the trends and present and future needs of our clients are considered in a commercial fit out.
We are also proud to have industry leading sustainability  credentials and the widest experience of any our Dubai-based interior fit out peers, including LEED (Leadership in Energy and Environmental Design) Gold Certification and LEED EBOM for our own office. We stand apart from the competition because of our core values and our commitment to quality and sustainability.
Our mission is to consistently deliver high end sustainable interior projects on time and within budget, which help clients;
Achieve their environmental goals, improving energy, water and resource efficiency for buildings
Create inspiring workplaces to enhance employee health and happiness
Deliver operational savings, increase building value and decrease utility costs.
Contact us today to discuss how co-working and collaborative solutions can increase your competitiveness, improve your bottom line, and help you keep your employees healthy, happy and productive.