The United Arab Emirates' (UAE) fit out industry is one of the GCC's fastest-growing industries. [1] External influences drive trends, and in 2023, sustainability, innovation and technology are predicted to dominate the sector. The UAE is setting the pace for the GCC and beyond with new on-trend commercial projects and renovations that lead the way. As of 2021, the value of the UAE commercial interior fit out market was $1486.21 million, and it's expected to grow at a compound annual growth rate (CAGR) of 9.31% from 2023 to 2027. [2]
While trends typically last up to a year, some have remained steadfast. For example, the sustainability trend has evolved into environmental, social and economic commitments and become a necessity for forward-thinking businesses – in the UAE with many are committed to the UAE Government's sustainability objectives including Net Zero by 2050. [3]
The evolution of the way people work has also influenced office trends, with remote working and online meetings more prevalent than ever. This has resulted in a wave of technology-friendly Smart offices, ensuring everyone stays connected regardless of their global location. The flexibility of working remotely soared throughout the pandemic, although many business owners hoped to welcome their employees back to the office afterwards. Since then, the workforce has clarified their workplace expectations, which have further dictated office trends. Well-being, for example, was a high priority for workers and led to a resurgence of the biophilia trend alongside access to stress-relieving activities. In this article, we will explore these longstanding trends and take a closer look at the new trends set to emerge in 2023.
2023 Office Fit Out Trends
1. Technology and Connectivity
The Smart Office is a concept that revolves around the efficient and seamless use of digital technologies in the workplace. Including smart tech in office design is a trend that will continue to grow, especially with the rise of hybrid working.
The prevalence of digital connectivity and technologically enhanced environments continues to increase in modern offices, improving employee engagement and productivity. Smart offices now include multiple technology ports, docking stations, projectors and video conferencing facilities; some even opt for connected furniture, smart lighting, and enhanced security. Advancements in the field present the opportunity to integrate smart office technology with IoT, VR, Big Data, AI, and even robotics. Spatial efficiency, for example, can be enhanced through data gathered from sensors, smart badges, network logins, apps and so on. The analysis of this data can help businesses maximise their space, while improving employee comfort and satisfaction.
Companies are also investing in touchless sensor technology, state-of-the-art video conferencing technology and reliable IT connectivity to enable flexible working. 2023 will see office spaces adapt to support the emerging needs of flexible working. As such, modern office spaces need to consider areas for video conference meetings with excellent audio and visual access, to ensure staff stay connected whether they are working remotely or in the office environment.
Smart offices enable businesses to keep up with new technologies and create a flexible work environment for agile, happy and productive employees.
2. Flexible, Co-working & Hybrid Workspaces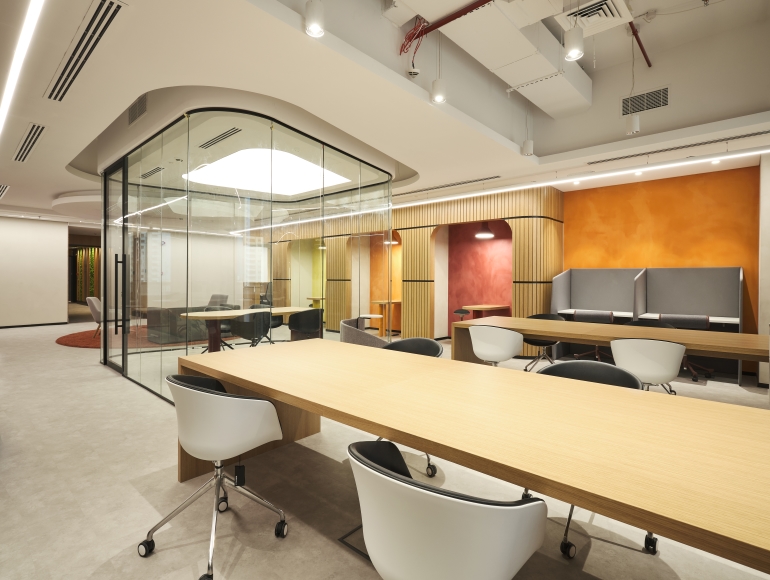 Co-working and hybrid spaces are rapidly becoming the norm in offices, allowing for greater agility and more efficient use of space. These spaces provide the necessary amenities for a variety of working styles and provide a more welcoming atmosphere. Such innovations offer companies the tools to create a more productive and enjoyable work environment for their employees.
When employees return to the office, they may desire additional amenities to improve their work experience that is unavailable at home. Agile workspaces, such as acoustic booths, workbenches, café style pantry and small collaboration areas, may become more common. This will not only adjust to changing headcounts, but also create a more welcoming and engaging environment for staff to enhance productivity.
Employers continue to use these flexible working models to quickly scale up and down, offering employees more control over their work environments. Research suggests that hybrid workers are also 22% happier than those working onsite full-time. [4]
Co-working spaces embrace agile working and provide areas for individual concentration, group-based work and relaxation. Similarly, Activity-Based Working (ABW) offers a variety of workspaces and allows employees to choose where they work based on the task or activity. [5] This dynamic flexibility gives way to the trend featuring multi-functional, lightweight, and ergonomic elements that are easily moved and designed to fit any space and purpose.
3. Health, Wellbeing and Safety
Companies are increasingly recognising the importance of investing in creating healthier and sustainable working environments that prioritise improving employees' physical and mental health wellbeing. This trend goes beyond safeguarding against the pandemic, and focuses on building up generalised health, wellbeing and resilience to improve quality of life and prevent future illness.
Some businesses are taking a more structured approach and adopting global frameworks and standards such as The WELL Building Standard™ version 2 (WELL v2™), a vehicle for buildings and organisations to deliver more thoughtful and intentional spaces that enhance human health and well-being. [6]
The trend to improve health, wellbeing and safety involves incorporating wellbeing into sustainable workplaces and adopting corporate employee health and wellness programmes. Common initiatives within these programmes can include access to mental health workshops, gym reimbursements, health coaching and nutritional support.
Regarding health and safety, it is essential to use only non-toxic materials, ensure clean airflow and proper ventilation, and provide dedicated areas for eating. Meanwhile, wellbeing can be enhanced by providing private spaces for resting and reflection. Furthermore, wellbeing perks and autonomy over their workspace have been instrumental when attracting and retaining top talents.
4. Environmental and Social Sustainability
Sustainability is challenge in today's world that is now at the forefront of government, and business decisions. The World Economic Forum Global Risks Report 2023 released in January 2023, again highlights climate change and sustainability related risks as global issues this year and for the next 10 years. [7]
The recent pandemic has also demonstrated the importance of sustainability, with people becoming more concerned about environmental challenges and more committed to changing their behaviour. Governments and businesses also align their recovery initiatives with sustainable practices, while employees emphasise working in healthier, safer, more sustainable workplaces.
In January 2023, the UAE president declared 2023 the 'Year of Sustainability' in the year it hosts COP28. [8] This declaration is a clear indication of the government's intent to increase its sustainability efforts and expectation on local businesses to also align and contribute.
As a society, we are continuously becoming more aware of our impact on the environment, which has filtered through to commercial workplaces too. Companies are looking for ways to make their offices more sustainable, influenced daily, and influencing their purchasing decisions.
There are multiple environmental, economic and social and health-related benefits to improving the sustainability of an office, so it is no surprise that this trend has continued to gain momentum over the past five years. Whether retrofitting or creating sustainable commercial fit out from scratch, the focus remains on creating a healthy and safe environment, with flexible work areas, efficient use of energy and water, and effective waste disposal methods.
5. Multisensory Biophilic Design and Natural Light
Biophilia is a scientifically-proven philosophy, concerning our innate connection to the natural world. While many associate biophilia with plants alone, it concerns all natural senses; sight, sound, sensation, taste and smell. This means that the sound of water or gentle birdsong can be as impactful as being surrounded by interior landscaping in terms of the productivity and wellbeing increase associated with biophilia. And it is this very multisensory aspect of biophilia that is expected to trend in 2023.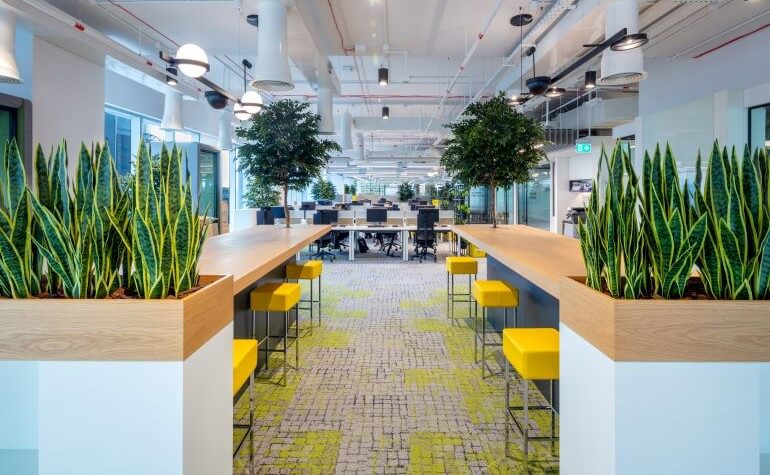 With most of human time spent indoors, there is a growing desire for a stronger connection with nature. [9] This has dramatically impacted the way lighting is designed in office spaces, with a greater emphasis on natural light and softer lighting, rather than windowless cubicles illuminated by fluorescent lights.
Biophilic design harnesses the science of biophilia by incorporating elements from nature to benefit human health and wellbeing. This may include using natural materials, plants, water features and natural lighting, as well as designs that reflect or mimic nature such as living walls, room dividers, and natural colour palettes. Research has shown that biophilic design can boost productivity, improve physical and psychological health and enhance employee experience and wellbeing.
A 2021 study found that workers in offices with natural elements, such as greenery and sunlight achieve 6% more productivity, 5% enhanced creativity and 15% improved wellbeing. [10] Another aspect of biophilic design that is set to gain momentum in 2023 is circadian lighting. Our natural circadian rhythm is vital in ensuring general wellbeing, affecting everything from our all-important sleep patterns to the molecular clocks that regulate the timing of our cellular activities. Keeping this rhythm in check, means we not only feel better but also perform better too. Hence companies and organisations are keen to ensure they provide the right environment for their workers, with the correct lighting playing a big part in this.
6. Outdoor Spaces and Natural Light
Physically using natural outdoor space will elicit the most robust biophilic response, but this is not always possible. According to the L.L.Bean 2018 Work and the Outdoors Survey, 87% of people enjoy working outdoors. [11] There are, however, alternatives to using natural light, such as large windows or circadian lighting.
Providing outdoor space, with visually appealing tables and comfortable seating, enables employees to work, read, or relax in their spare time. Not only does this add dimension to the workplace, but it also provides additional areas to brainstorm and collaborate effectively. One of our favourites was the Government of Dubai Media Office project, which featured biophilic design elements and plants, including a "Contemplation Garden" and an outdoor terrace garden.
In offices where access to outdoor space is impossible, combining natural lighting with exposure to daylight has been scientifically proven to increase our well-being and mood, brightening rooms and making offices feel more extensive and more spacious. Commercial spaces with fewer opportunities to embrace daylight can create the illusion of natural light with well-placed mirrors, a warm colour scheme, and smart bulbs. Adding more natural light is key to a more comfortable, homely office environment that boosts productivity and morale.
One example of a light-infused project used large, thinly-framed windows to incorporate a wide view across the landscaped outdoors while letting the natural light in at RSA Security. Elsewhere, office planter boxes were introduced to boost employee health, productivity and wellbeing, thereby combining biophilic design trends and natural lighting.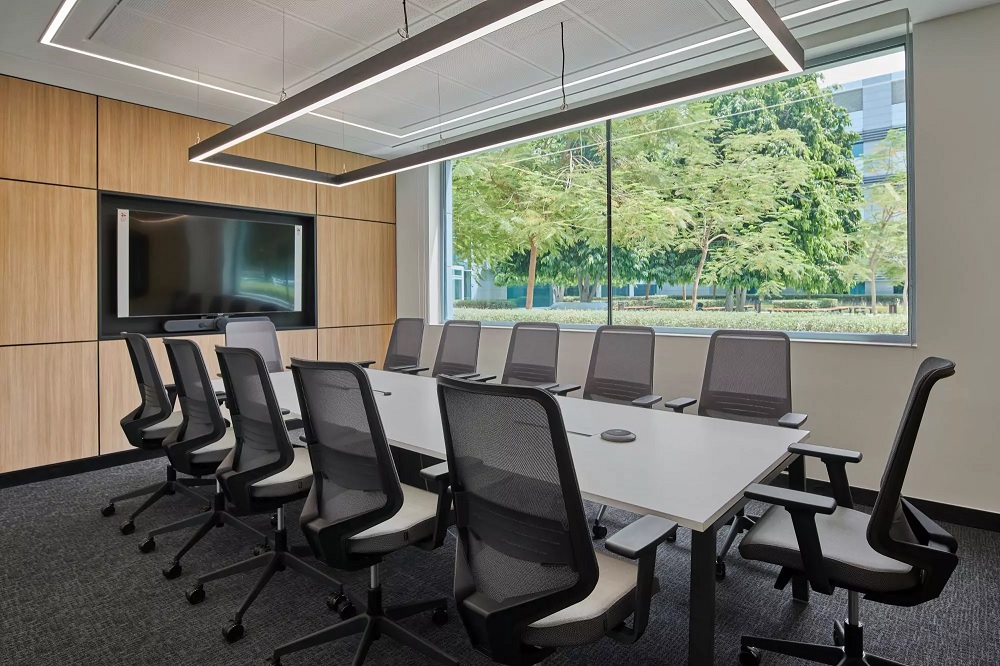 7. Pattern and Form
Incorporating patterns into various design elements, such as wallpaper, rugs, furniture, and artwork, is a great way to add visual interest and create focal points in a space.
According to Pallavi Dean, founder and creative director of Dubai-based architecture and interior design studio Roar, floor artwork or rugs in playful, organic shapes will be a trend in 2023. [12] Natural, curving, arching, and organic shapes and patterns are expected to dominate the design landscape.
Additionally, using three-dimensional shapes or forms is an easy way to add style and interest to a room. Organic and curving shapes are set to come back in 2023, as they can add dynamic balance to rectilinear elements such as straight walls and hard lines.
8. Dynamic Offices and Furnishings
The design firm Ambius introduced the concept of Dynamic Flexibility, which involves the use of moveable walls, lightweight, mobile furniture, adjustable lighting, and technology, to enable spaces to be quickly and easily adapted to different functions. This new generation of moveable, multi-functional, lightweight, and ergonomic elements, makes it possible to create the next level of Smart Space for 2023.
Cubicle farms and rigid partitions are out of fashion, while modular, multi-purpose and moveable furnishing and design features are decidedly 'in'. Using adaptable and mobile furnishings and design elements creates a more dynamic space that can adapt to fit the room's requirements. This adaptability is key as it allows businesses to accommodate the needs of an ever-changing workforce.
As more employees return to the workplace, the best way to foster collaboration, teamwork, and working flexibility is to ensure that your space is versatile enough to accommodate a variety of interactions both with and without colleagues.
This trend may well see the inclusion of more soft furnishings, including sofas, armchairs and cushions; creating a semblance of home in their work environments to foster a sense of comfort and safety. Coffee tables, fridges, and other amenities could also be included to create a more sociable and inviting atmosphere, whether in a lobby, waiting room or employee break room. An example of this trend is the Supreme Council for Motherhood & Childhood (SCMC) project, showcased in the following section.
9. Resimercial Design
After prolonged remote working, it's essential to make employees feel comfortable and secure when returning to the office, which has led to the increasing popularity of resimercial design. This approach blends "residential" and "commercial" elements to create a welcoming and comfortable work environment.
Design elements such as ergonomic furniture, natural lighting, and inviting colours can help to promote comfort, productivity, and a positive work atmosphere. Modern amenities such as WiFi, coffee machines, and a kitchenette can help employees feel more at home.
It is equally important to create a space that is conducive to collaboration. This can be done by adding comfortable seating areas for team meetings, brainstorming sessions, and impromptu conversations. This helps create a sense of community and allows employees to connect.
Finally, employers should ensure that their office design reflects the company's values, mission, and overall brand identity. This can be done through brand colours, artwork, and signage. It is also essential to ensure that the design is cohesive and consistent throughout the office space.
By creating a comfortable yet productive office design, employers can help ensure the success of their business while giving employees a sense of belonging.
10. Green Certification
The UAE ranks as one of the top 10 countries globally for Leadership in Energy and Environmental Design (LEED) certifications, the top globally recognised green building rating system. Local certifications such as these are gaining popularity as companies become increasingly aware of sustainable fit out's economic, social and environmental benefits.
Increased sustainability awareness has led to a growing demand for office fit out certifications. These certifications ensure fit out contractors follow the latest environmental standards, demonstrating a company's commitment to achieving sustainable goals. They are also aligned with local and global sustainability goals, providing evidence that companies contribute to these goals and honour their sustainability commitments.
Workplace Fit Out: Real-life Examples and Key Features
1. LinkedIn
Our most recent sustainable workplace fit out project was for LinkedIn. The brief was to revitalise LinkedIn's Middle East & North Africa Headquarters with a complete refurbishment across two floors that would meet LEED and WELL Gold Certification.
Key highlights of the new sustainable workplace include flexible collaborative working spaces, dedicated media recording room, a café, micro-kitchen co-working space, mother's room, multifunctional training room, and games room.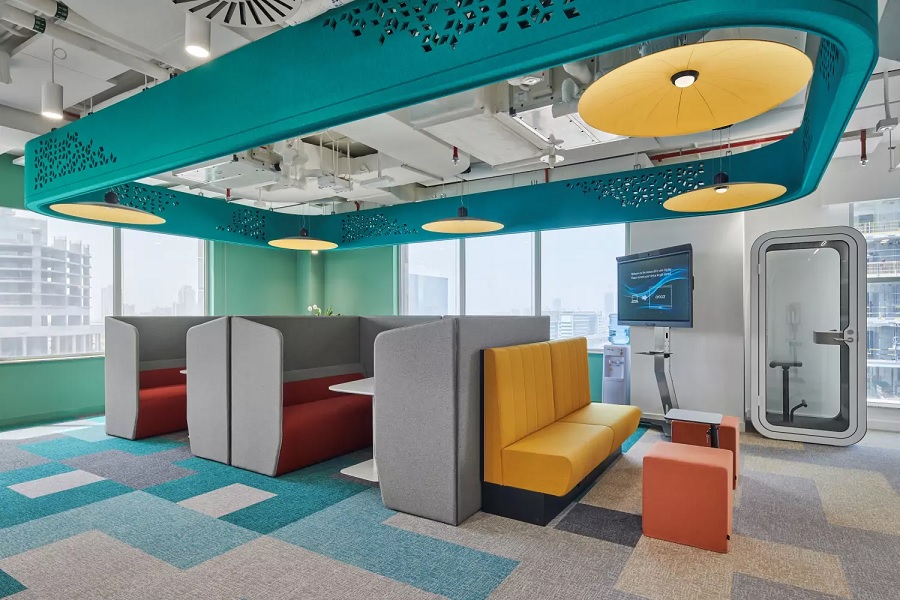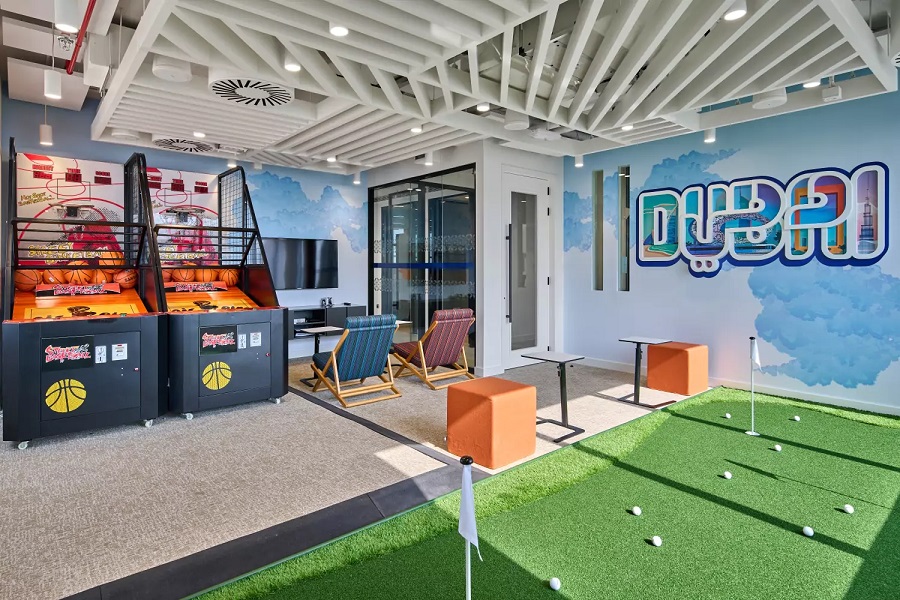 Find out more about the LinkedIn project here.
2. Supreme Council for Motherhood & Childhood (SCMC)
The Supreme Council for Motherhood & Childhood appointed Summertown to design and build a new workspace to complement the existing headquarters of the General Women's Union. This innovative project incorporated sustainability trends, biophilia, green certification and resimercial design. The 3,500 sqm space was designed to create a comfortable, harmonious workplace purposeful for both adults and children, promoting excellence and creativity in the areas of motherhood and childhood.
The creative elements included desert-inspired design structures, biophilia, and geometric shapes; each used throughout the space to create functional pockets. All floors featured the theme of 'play,' with bespoke design elements made from locally-sourced materials such as terrazzo, brass mesh and stone. The project was completed in line with the Abu Dhabi Green Building Estidama Pearl 2 Building Rating System, with careful supply chain management from over 50 suppliers.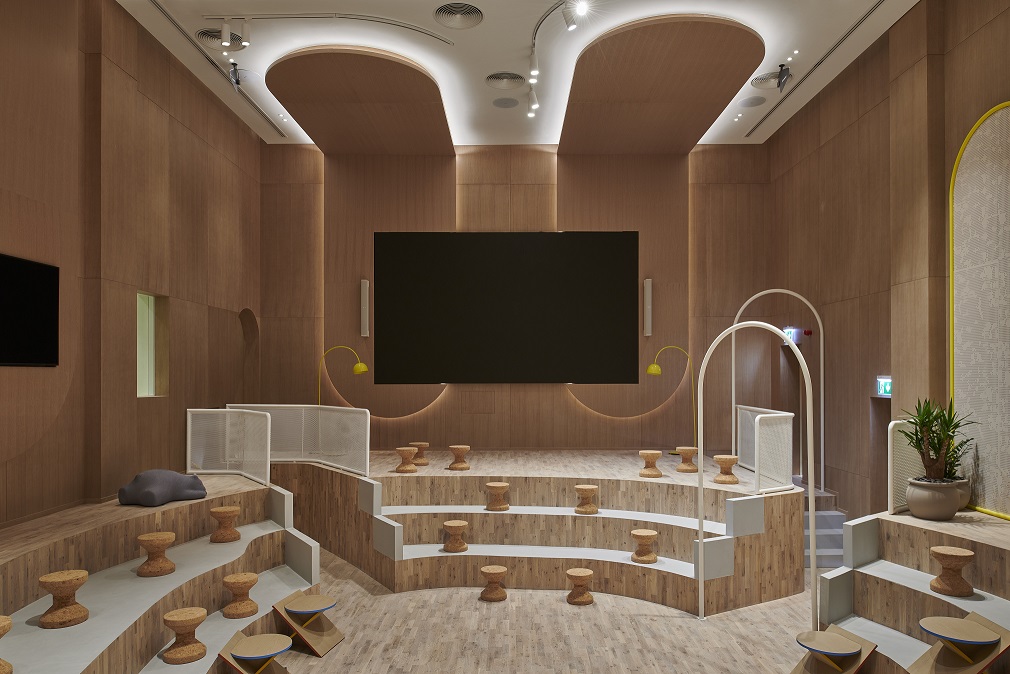 Find out more about the Supreme Council for Motherhood & Childhood project here or watch the progression video below.
3. SMART Dubai Office
The SMART Dubai office is a remarkable example of how technology and sustainability trends can be combined successfully. A LEED Gold-certified workspace equipped with state-of-the-art technology and a warm, human design created by clever lighting, textures, plants, wood and curved silhouettes.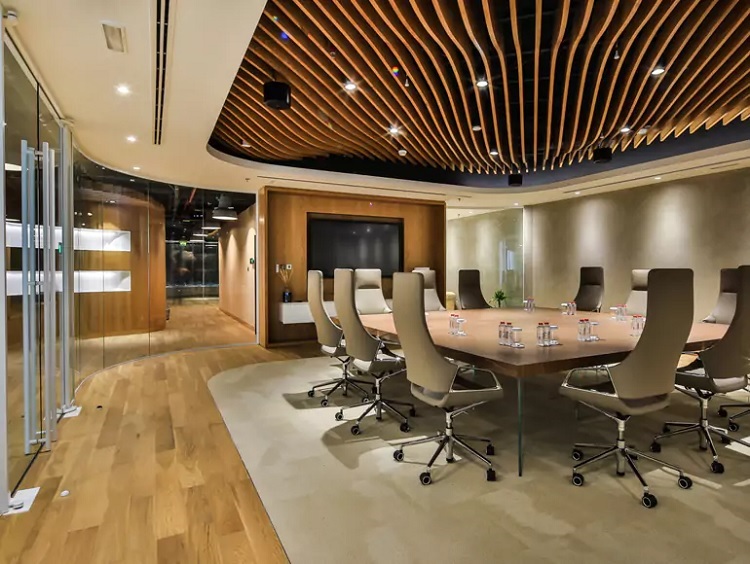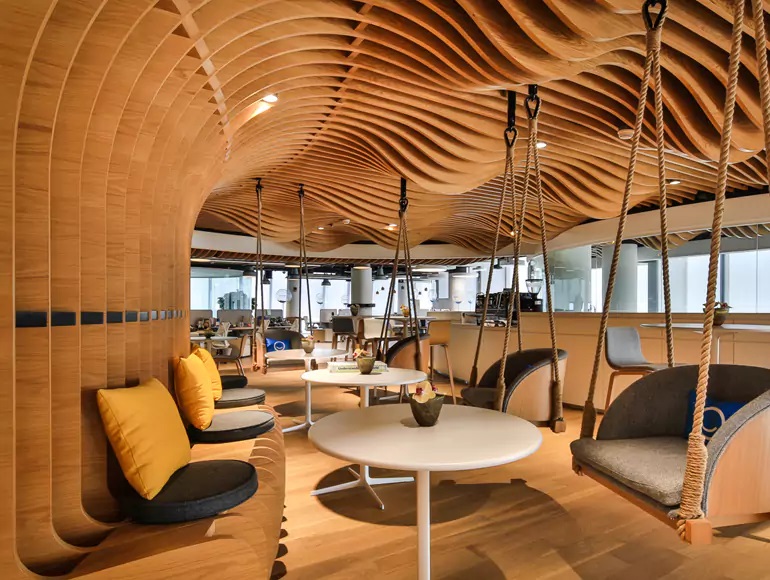 Find out more about the SMART Dubai Office project here.
4. The Government of Dubai: Media Office
The Government of Dubai Media Office (GDMO) project focused on creating a sustainable, smart office, influenced by biophilic design, and subscribing to green certifications; thereby combining four trends in one.
Summertown and Dubai-based design firm Bluehaus Group partnered to deliver the new GDMO headquarters at the prestigious One Central Development in Dubai World Trade Centre Authority. Combining nostalgia and modernity, the resimercial design across 4,200 sqm features a free-flowing workspace, sound-proof meeting rooms, an outdoor rooftop and a Majlis.
The Master Control Room, Central Apparatus Room, and recording, editing and voiceover booths were fitted with acoustic treatments and the latest media equipment and technology. LED lights were installed along with a light control system and occupancy sensors to keep the office green and sustainable.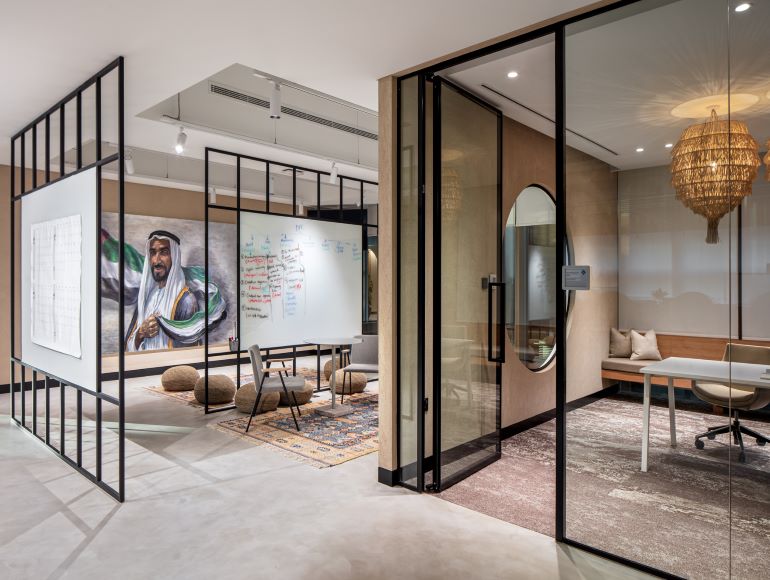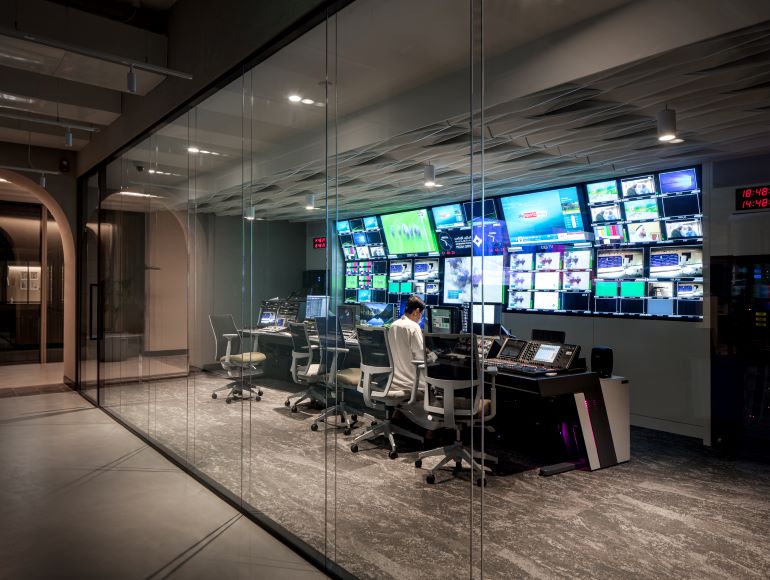 Find out more about the Government of Dubai Media Office project here or watch the video below.
Summary
The workplace of 2023 is set to be a dynamic and innovative space, which is why the anticipated trends embrace flexible working, natural elements, and a commitment to sustainability. Smart office technology, biophilic design, natural light and outdoor spaces, pattern and form, dynamic office and furnishings, and green certification are also predicted to be essential trends that will revolutionise how offices are designed and operated this year beyond. As we move into the future, it is important to remember that creating a comfortable and productive work environment is key to ensuring employee satisfaction, engagement, and productivity.
Are you thinking of updating your office in 2023? Contact us today to discuss how a new workplace fit out can transform your organisation.

References:
[1] https://www.zawya.com/en/business/uae-fit-out-sector-one-of-fastest-growing-industries-in-the-gcc-i04wrv6d
[2] https://www.businesswire.com/news/home/20220331005724/en/UAE-Commercial-Interior-Fit-Out-Markets-Report-2022-Offices-Hotels-Resorts-Retail-Healthcare-Education-Others—Forecast-to-2027—ResearchAndMarkets.com
[3] https://u.ae/en/information-and-services/environment-and-energy/climate-change/theuaesresponsetoclimatechange/uae-net-zero-2050#:~:text=The%20UAE%20Net%20Zero%202050,compared%20to%20pre%2Dindustrial%20levels
[4] https://resources.owllabs.com/blog/hybrid-remote-work-statistics
[5] https://www.ahrend.com/en/expertise/activity-based-working/
[6] https://www.wellcertified.com/
[7] https://www.weforum.org/reports/global-risks-report-2023/digest
[8] https://www.thenationalnews.com/uae/2023/01/20/president-sheikh-mohamed-declares-2023-the-year-of-sustainability/
[9] https://www.industville.co.uk/blogs/news/office-interior-design-trends
[10] https://greenplantsforgreenbuildings.org/wp-content/uploads/2015/08/Human-Spaces-Report-Biophilic-Global_Impact_Biophilic_Design.pdf
[11] https://www.forbes.com/sites/alankohll/2018/06/25/5-data-backed-ways-working-outdoors-can-improve-employee-well-being/?sh=4a219404eb82
[12] https://www.thenationalnews.com/lifestyle/home/2022/04/08/fashionable-floors-three-uae-brands-to-shop-for-creative-carpets/