1. The Green Building Revolution in the UAE
The UAE is one of the highest energy consumers per capita in the world. The extraordinary economic growth of the country since the 1960s, a growing and more urbanised population, changes in lifestyle and work habits, a construction boom, as well as a relatively low subsidised energy cost have all contributed to elevated energy consumption. This has unsurprisingly resulted in high levels of pollution and carbon emissions. [1] In response to this phenomenon, the UAE government has committed to a change in strategy, becoming one of the most active signatories of the United Nations Sustainable Development Goals (SDGs) 2030 and the Paris Climate Agreement. The UAE's new Green vision has been articulated in the UAE 2021 Vision and UAE 2030 Green Agenda, both focusing on ensuring environmentally aware economic development for the nation.
Vision 2030 Environment Goals:
Climate change – minimising the impact of climate change
Clean air and noise pollution – contributing to safe and healthy living conditions
Water resources – efficient management and conservation of water resources
Biodiversity, habitats and cultural heritage – conserved for current and future generations
Waste management – enhanced value creation through optimised material flows and waste management.[2]
The UAE has also promoted various green construction and sustainable design initiatives, both at the federal and Emirate levels. When it comes to the implementation of new sustainable design techniques, few places are better suited or offer a larger canvas than the fast-growing cities of the UAE.
Green building and sustainable design has become a powerful trend in the UAE. According to a recent report issued by Core Savills, the real estate advisory firm:
Dubai places third in the list of global cities with the highest number of green buildings.
At the time of writing, Dubai had over 550 projects undertaking LEED certification (see a description of this certification system below).
81% of in-progress projects in Dubai are being certified, the highest ratio of any city globally.
The UAE is among the top 10 countries holding LEED certifications outside the US.
Core Savills notes the demand for LEED-certified Grade A buildings exceeds the current supply. Increasing numbers of Blue chip tenants require sustainability in their corporate real estate requirements. Environmental awareness and green fit out serves many goals, including:
Attracting clients
Increasing employee productivity
Optimising operational costs [3]
There are many notable green buildings in the UAE which have been certified as environmentally sustainable. The number of structures keeps increasing. According to the Green Building Information Gateway, the UAE has more than 1,000 green building certifications, 18 of which have the highest level of certification, LEED Platinum[4].
| | | | | |
| --- | --- | --- | --- | --- |
| Projects | Location | Date Completed | Company | Type / Size |
| Bloomberg Dubai | Dubai, Dubai AE | 2011-06-09 | Corporate / Bloomberg LP | Office / 14,700 sq ft |
| The Change Initiative TCI | Dubai, Dubai AE | 2013-05-30 | Corporate / The Change Initiative | Retail / 34,004 sq ft |
| Du Retail Store-Fujairah City Centre | Fujairah AE | 2012-07-27 | Emirates Integrated Telecom. Co. PJSC | Service / 1,971 sq ft |
| Panasonic Avionics | Dubai, Dubai AE | 2014-11-22 | Panasonic Avionics Corporation | Office / 143,646 sq ft |
| Dubai Chamber of Commerce and Industry | Dubai, Dubai AE | 2013-08-20 | Dubai Chamber Of Commerce And Industry | Office / 226,042 sq ft |
| City Centre Me'aisem | Dubai, Dubai AE | 2015-11-17 | Majid Al Futtaim | Retail / 322,153 sq ft |
| Spacewell Design Hub | Dubai AE | 2014-11-07 | Spacewell Interiors LLC | Office / 9,688 sq ft |
| BMA International FZE-Warehouse & Office | Dubai, Dubai AE | 2017-05-04 | BMA International FZE | Warehouse and Distribution / 215,774 sq ft |
| DSOA Techno Point building (P-024) | Dubai, Dubai AE | 2015-08-18 | Dubai Silicon Oasis Authority | 117,598 sq ft |
| MORO Hub | Dubai, Dubai AE | 2017-12-18 | Dewa | Office / 101,205 sq ft |
| DAFZA HO-2B+G+8 Office Building | Dubai AE | 2016-04-13 | Dubai Airport Free Zone (DAFZ) | Office / 98,598 sq ft |
| Neighbourhood One Residences | Abu Dhabi, Abu Dhabi AE | 2018-01-16 | Abu Dhabi Future Energy Company PJSC | Multi-Family Residential / 599,018 sq ft |
| du store at Me'aisem City Center | Dubai, Dubai AE | 2017-02-15 | Emirates Integrated Telecom Co. | Retail / 898 sq ft |
| My City Center Al Barsha | Dubai, Dubai AE | 2016-11-16 | Majid Al Futtaim Properties | Retail / 51,500 sq ft |
| Zulekha Hospital | Sharjah AE | 2016-09-27 | Zulekha Hospital | Health Care / 224,880 sq ft |
| ADNOC HEADQUARTERS | Abu Dhabi, Abu Dhabi AE | 2018-02-26 | Abu Dhabi National Oil Company | Office / 1,837,958 sq ft |
| Dubai Silicon Oasis Authority HQ | Dubai AE | 2017-07-11 | Dubai Silicon Oasis Authority | Office / 831,706 sq ft |
| JA3500 Workers Accommodation | Dubai, Dubai AE | 2017-11-19 | Khansaheb Investments LLC | Higher Ed / 277,273 sq ft |
2. Sustainability in Commercial Fit Out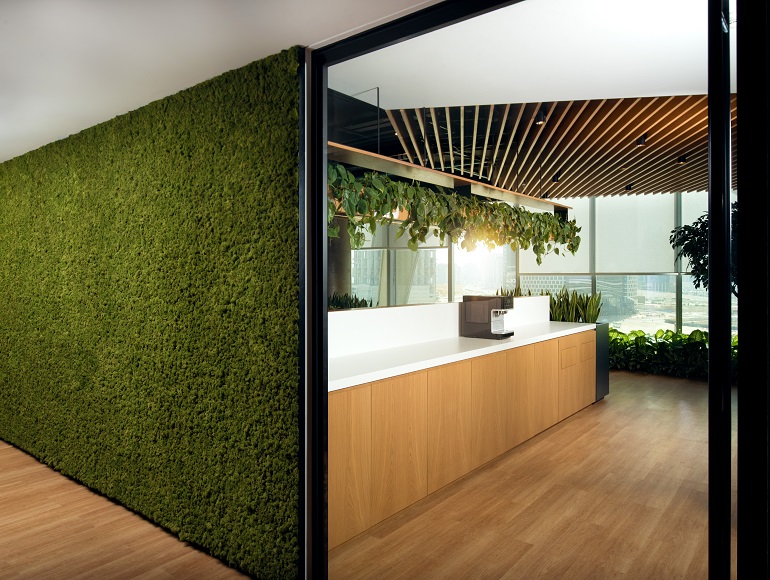 The trend towards advanced and green building does not stop with the external building though but moves to the inside as well. Forced to step up its game to match up to the luxury, technological advances and practical design of its exterior counterpart, the interior design sector in the UAE is one of the most forward-thinking anywhere on earth today. It has become one of the most dynamic and revolutionary in the world. This has allowed interior design companies to not only come up with new ideas but to roll them out on a grand scale as well. With the city growing at such a rapid rate, it is a little wonder that the UAE is now home to one of the most rapidly rising interior design sectors of today.
Dubai especially is attempting to make the most of this new movement and is utilising everything from the external build to the interior fit out to place a focus back upon sustainability. Dubai is pushing to become one of the 'greenest' cities on the planet. More weight is placed on this need as research shows that if nothing is done to improve these cities' capability to adapt to changing climates, they will simply become more and more arid. The rising challenge that cities like Dubai face due to climate change is indeed an uphill battle. However, this has allowed interior fit out companies Dubai-wide to try new technology and techniques. These practices and ideas make Dubai a greener economy.
This new call to action from the whole interior design sector, added to the push for more sustainable building practices, has led to several sustainable certifications becoming more and more prevalent, not to mention necessary. Whether you are designing the interior of an entire building or simply looking to upgrade and require a new interior fit out, there are now accreditations and certifications frameworks that enable your company to achieve its sustainability goals.
There are manifold benefits to adopting a sustainable approach in office fit out. These can be grouped along three main axes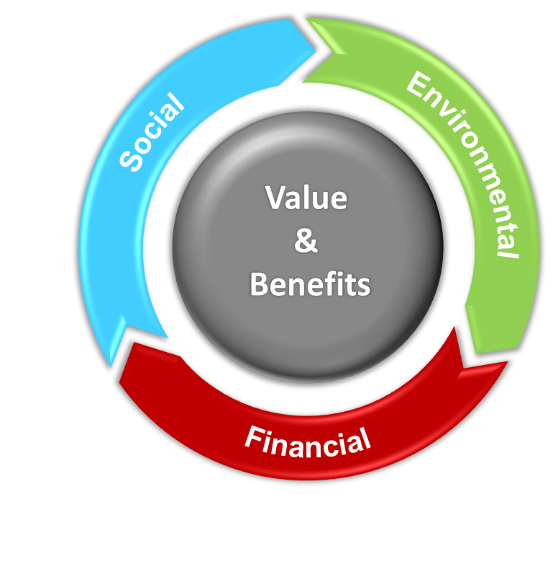 1. Environmental
Improving energy, water and resource efficiency
Reducing carbon footprint (GHG emissions)
Reducing & managing waste
2. Social
Increasing employee productivity & well-being
Attracting and retaining the best talent
Improve corporate image and creditability
Reducing regulation threats
Being part of the community (demonstrating corporate social responsibility)
3. Financial/Economic
Achieving measurable operational cost savings (energy & water consumption)
Improving profitability
Improving employee productivity
Realising Higher ROI (building & sales)
3. What is Certification & Why it's Important?
The US Green Building Council (USGBC) discovered in a study of LEED-certified buildings that:
Energy, carbon, water, and waste reductions resulted in savings of 30-97%
Green Building operating costs can be cut by 8-9%, while their value can increase up to 7.5%
ROI can increase by up to 6.6%
Occupancy can increase by 3.5% and rent by 3%
Other significant green building benefits include an increase in occupants' productivity and good health, as well as an improved indoor environmental quality[5].
3.1 A Quick Guide to Certification
In a world where there is more focus being placed on a need to use sustainable building practices and design techniques, there is also a need for certifications that ensure contractors are supplying what you need the most. Certifications ensure that you are provided with the most sustainable design, build and fit out, from the start of the fit out cycle; which includes sourcing and production of materials, to installation, maintenance and removal. Globally, we are witnessing a rise in sustainable workplace fit out techniques and technologies. This has led to the appearance of various "green" certifications that highlight precisely how green a building project is. Considering the design, construction, maintenance and operation of these green buildings, retail spaces, offices and other structures, these certifications have become a new standard in sustainability.
3.1.1 LEED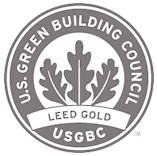 One of the more widely used of these certifications is the LEED or (Leadership in Energy and Environmental Design) certification developed by The U.S. Green Building Council or (USGBC). The LEED certification program is used all over the world and has gained popularity due to the way in which it classifies building projects. With the aim of creating more environmentally responsible and sustainable buildings, the LEED certification program uses a grading system of Certified, Silver, Gold and Platinum to show what level of sustainability any building or office fit out can achieve.
Buildings can qualify for several different levels of certification under the LEED program. These levels of certification are granted by accumulating points:
Certified level – 40 – 49 points
Silver level certification – 50 – 59 points
Gold level certification – 60 – 79 points
Platinum certification – 80 points and above
The original LEED certification program began back in 1998 but has evolved massively since its conception. Operating in different sections, LEED certification can be split into five categories, namely: Green Building Design & Construction, Green Interior Design & Construction, Green Building Operations and Maintenance, Green Neighbourhood Development and Green Home Design & Construction. The LEED program also makes up the foundations of other sustainability rating systems as well.[6]
Sustainability certifications have made it far easier to see exactly what a designer or fit out company has considered to create a more sustainable project, whether by using sustainable sites, water efficiency, sustainable energy and atmosphere, materials or resources, bettering indoor environmental quality or indeed innovation in design. All of these are areas where construction or fit out companies can gain yet more points on the ever-sliding scale of sustainability in use. The LEED certifications were developed by the U.S. Green Building Council but there is now a wealth of other green certifications available such as:
3.1.2 WELL Building Standard
This certification focuses more on the health and well-being of buildings globally. In 2018 it released version 2 of the standard which includes 10 concepts: Air, Water, Nourishment, Light, Movement, Thermal Comfort, Sound, Materials, Mind and Community. Each concept category encompasses objectives that focus exclusively on the health and wellness of the people in buildings. The WELL standard is also designed to work harmoniously with holders of existing standards such as LEED, being a complementary framework that focuses on a building's human impacts.
3.1.3 This building standard is a third-party certification by the Green Business Certification Incorporation (GBCI) which also manages the LEED certification program. [7] We believe the WELL standard is a strong evidence-based certification that will be adopted increasingly in the UAE over the next couple of years, following the country's focus on sustainability and happiness. BREEAM
The Building Research Establishment Environmental Assessment Method (BREEAM) developed by the building research establishment (BRE) in the UK is the world's longest-running method of building assessment when it comes to sustainability. This method of assessment predates LEED by eight years but has since been used less and less with LEED becoming the most prevalent. [8]
3.1.4 Pearl Rating System for Estidama (Abu -Dhabi, UAE)
The Pearl Rating System (PRS) is a framework for sustainable design, construction and operation of communities, buildings and villas. It is a unique certification system that was specifically designed to suit the specific climate and environment of Abu Dhabi. The PRS is divided into seven categories with both mandatory and optional credits. To achieve a 1-Pearl rating, all the mandatory credit requirements must be met. To achieve a higher Pearl rating of 2-5 Pearls, all the mandatory credit requirements must be met along with a minimum number of credit points. All new projects must achieve a minimum 1-Pearl rating to receive approval from the planning and permitting authorities. Government funded buildings, on the other hand, must achieve a minimum of 2-Pearl rating.[9]
3.1.5 Al Safat Green Building Evaluation System (Dubai – UAE)
The Sa'fat system has been implemented for all buildings in Dubai Municipality's residential, commercial, and industrial sectors. Sa'fat has four types of rating (Bronze, Silver, Gold and Platinum) which covers carbon reduction, energy saving, internal health environments, smart applications, innovation requirements, and a building's expanded lifespan.[10]
4. Examples of LEED certified interiors
The LEED certification has been embraced throughout the UAE and is currently the most popular type of certification sought. The interior design sector in the country has numerous projects and the interior design sector in the Middle East has already seen a myriad of projects incorporating this certification out of a conviction of its benefits.
Examples of LEED certified buildings and office fit out projects include:
4.1 SMART Dubai Office (LEED Gold)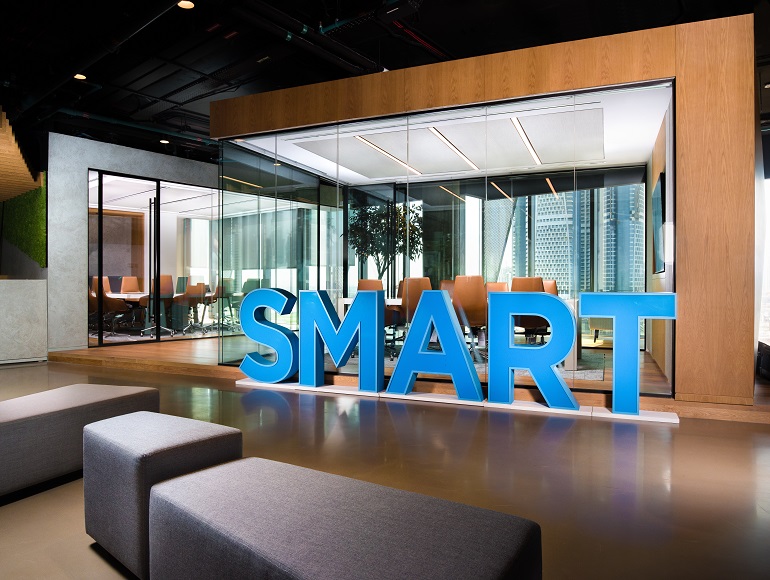 The Smart Dubai initiative is based on the vision of His Highness Sheikh Mohamed bin Rashid Al Maktoum to make Dubai the happiest city on earth. The mandate of the initiative is to make Dubai a more efficient and safe not only to the tourists but more so to the residents.
The Smart Dubai Office is the technology arm of 'Smart Dubai', an initiative to transform the region into the world's smartest city by 2021. The 1,850m2 office project was designed by Design World Partnership (DWP). The organic shapes and flow was drawn from the natural environment, particularly Dubai's characteristic sand dunes and the Creek.
Summertown Interiors was responsible for the project's fit out and with managing the LEED certification. Bringing the organic design to life, Summertown created bespoke curved wooden ceiling panels, and wooden oak floors. Summertown also made extensive use of natural plants and roped partitions.
Sustainability was inbuilt from the inception of the project, from extensive use of recycled materials, to the use of lighting controls and chimers cut down on energy use.  Green waste management strategies were implemented to reduce environmental impact during the project, resulting 50% of waste being successfully recycled. Project purchasing was driven by sustainable criteria. Summertown also carried out daily tracking and monitoring of energy and water use during works.
Two key achievements as a result of the LEED certification process were:
Energy savings achieved – 10% improvement in Energy performance based on ASHRAE 90.1 2010 standards
Water savings achieved – 53% reduction from baseline
At the same time, the most up-to-date, working technologies were implemented in the office, including a virtual assistant and advanced collaboration solutions. An example of these is the all-in-one meeting room control pad for presentation display, lights and blinds, which also connects wirelessly to different devices like laptops, tablets and smartphones, and various "smart" shared working areas.
4.2 Ahrend @ Dutch Design Centre, Dubai (LEED Gold)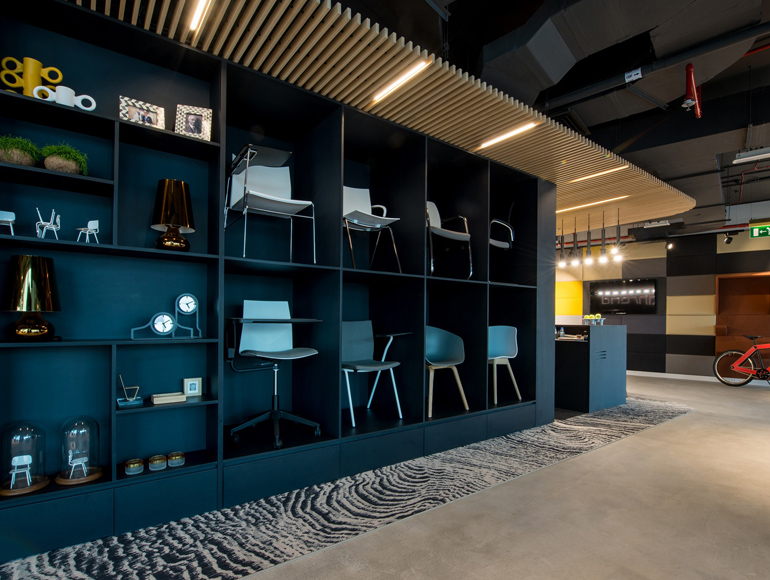 Ahrend is the leading European expert in the field of professional work environments and office furniture. Ahrend joined other Dutch design-based companies in the Dutch Design Center, an online and offline platform to promote the best and latest of Dutch design. Ahrend selected Summertown to carry out its office fit out and to help them achieve LEED Gold certification. [11]
Summertown was the natural choice for fit out contractor because of its successful track record in sustainable design and its 100% success rate on the delivery of LEED certified interior projects in the UAE. Summertown consistently met the client's high expectations and delivered sustainable solutions at each stage of the project. [12]
Following Ahrend's global design guidelines as well as strict green office standards, the space was optimised to encourage ABW (Activity-Based Working). AWB rethinks the use of space to encourage employee engagement and to increase productivity. [13]
4.3 Summertown Interiors Headquarters, Jebel Ali Free Zone, Dubai
Summertown Interiors is the leading green commercial fit out specialist in the region. It is not surprising that Summertown became the first interior fit out company in the UAE to achieve LEED Gold for its Headquarters and showroom.
In 2016 Summertown was also awarded Gold LEED EBOM certification for Existing Operations and Maintenance (EBOM) for their headquarters' ongoing operations and maintenance. This certification recognises the best practices in energy water and natural resource conservation, indoor environment and operational efficiency. [14]
Summertown implemented a range of solutions [15] to reduce the project's environmental impact and to enhance sustainability, including, but not limited to the following measures:
Increased fresh air & reduced CO2 levels to provide better air quality
Eco friendly refrigerant to reduce ozone depletion
Natural day lighting for over 76% of all spaces to reduce artificial lights usage
Energy efficient lighting to reduce lighting energy consumption by over 60%
Tobacco-free environment for better indoor environmental quality
Low VOC materials such as paints, sealants, wood products for better indoor air quality
Sensor-based hand washes and urinals to reduce water use by over 32%
Local or regional materials (within 800 Kms of site) to reduce transportation pollution
Comprehensive measurement & monitoring system to review building energy consumption continuously
Comprehensive recycling program to reduce waste disposal to landfills
Use of Energy Star rated equipment for over 94% of rated power to reduce energy consumption
Use of 100% certified wood-based materials to promote responsible forestry
Use of low VOC & low emissions furniture to reduce indoor environmental pollution
Use of rapidly renewable materials to reduce depletion of long-cycle & finite materials
Materials with recycle content to reduce virgin materials exploitation
Task lighting for over 95% of staff to enable them to adjust to individual needs
Designated car pool spaces to promote alternative transportation
High reflective roof surface to reduce heat
5. Is your office Green? Prove it. Get LEED certified!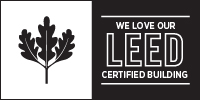 According to the USGBC, "High-performing green buildings, particularly LEED-certified buildings, can significantly reduce the contribution of greenhouse gas emissions over the life of the building." [17] 
In today's age, there is an ever-pressing need for sustainable workplaces. The importance of businesses and offices being certified as sustainable with the use of accreditations like LEED has never been more pertinent. There are many reasons why this is the case. For example, the overshadowing advancement of global warming and climate change on a whole has led to some cities being at risk of becoming arid cities. Dubai is one of those at risk and so in these cities, the focus has to be on sustainability, and effective or efficient use of materials, spaces and everything that is involved in an office or business fit out. A lot of this can be covered during the design phase of your office fit out. This means that you can plan to include sustainability as the main focus even from the very start.
The importance of certifications such as LEED for your company, office or building is growing. More and more cities are beginning to require new or retrofitted buildings or offices to accredited certifications, thus showing exactly how sustainable and effective their company is. When more companies are created in this way, we will see more sustainable cities such as the one Dubai is attempting to become.
As good global and corporate citizens, every company must strive to protect the environment and to reduce resource depletion. Numerous studies have shown that sound and sustainable workplace design and fit out have measurable economic benefits to both landlords and tenants. Additionally, companies with clearly articulated "green" principles are regarded in a better light than those with less corporate social responsibility. As buildings account for up to 40% of the consumption of raw materials and energy supplies, any action that helps to reduce this figure will have significant positive effects on the overall environment. In the developed countries, buildings are a major source of CO2 emissions of up to 39%. Green buildings use around 36% less energy than traditional structures and so can play a critical role in reducing these emissions.
The choice then it would seem is for your offices or company to embrace the ways of the future or choose to actively seek out design that is climate-responsive or sustainable. The higher your business or company's LEED rating is, the better it looks to investors or clients. The more appealing it becomes as a space to work in or a company to work for, the more productive the staff, eventually giving you higher profits and making your company more effective.
6. The Best Partner for your GREEN Interior Fit Out
Choosing the right fit out company for your offices is one of the most important decisions you can make. For many reasons both ethical and business related sustainable workplace design and green fit out are the way to go. If you need to retrofit or re-design your offices to obtain a LEED certification, then it is critical that you choose a contractor with a proven track credit and the requisite credentials. The right choice is a firm that has experience in carrying out LEED-certified office fit outs, and that understands that this involves incorporating "green" principles from the very beginning of the design process, all the way to the end, including waste disposal. Attention will have to be paid to each and every detail;  details like the re-use of materials so as to cut down on impact to the environment while taking all your business needs into account. This same interior fit out company will be able to execute the required design and fit out to help you pass the certification. You will need a company like Summertown.
Summertown has extensive and detailed LEED experience, enjoying an unbroken record of 100% success rate in gaining LEED certification for clients. For over two decades, this company has been striving for excellence and achieving it at every turn. When it comes to carrying out a LEED-certified office or commercial fit out, Summertown is amongst the very best and has carried many projects that demonstrate this. A solid mission to consistently deliver high-end interior design projects, both on time and in a budget, makes them one of the UAE's leading interior fitout contractors. They are not merely the smart choice for your company's interior fit out, but indeed the only choice.
If your company, like so many others today, decides to go for a more sustainable workplace fit out, and would like to gain a LEED certification, then there really is only one contractor that has the essential know-how and commitment and that is Summertown. Contact us today!
Sources:
[1] http://www.ipcbee.com/vol45/001-ICLSE2012-D003.pdf
[2] https://government.ae/en/more/uae-future/2021-2030
[3] Ibid
[5] https://www.wbdg.org/resources/green-building-standards-and-certification-systems
[6] https://new.usgbc.org/leed
[7] https://www.wellcertified.com/en
[9] https://www.upc.gov.ae/en/estidama/estidama-program/the-pearl-rating-system-for-estidama
[10] http://www.constructionweekonline.com/article-49223-first-batch-of-safat-certified-engineers-graduates-in-dubai/
[11] https://www.lovethatdesign.com/project/ahrend-dutch-design-centre-dubai/
[12] https://www.summertown.ae/projects/ahrend-at-dutch-design-centre/
[13] https://www.summertown.ae/wp-content/uploads/2017/11/Dutch-Design-Centre.pdf
[14] http://www.tradearabia.com/news/CONS_310358.html
[15] http://trakhees.ae/en/ehs/gb/Documents/Fact%20Sheet%20of%20Certified%20Green%20Buildings/summertowninteriors.pdf
[16] https://www.usgbc.org/articles/sustainable-development-goal-13-climate-change