Creating a workspace that aligns with the needs and values of a business is crucial, whether it involves constructing a new building, renovating an existing one, or relocating an office. Commercial interior construction services are essential in achieving this goal, and understanding the various types of commercial interior construction services available is critical for making an informed decision. This article delves into the three primary types of commercial interior construction services and examines the growing popularity of Design and Build contracts. Additionally, we highlight the advantages of Design and Build contracts over traditional contracts and explain why they are a smart choice for your next interior construction project.
Types of Commercial Interior Construction Services
In commercial interior construction, businesses and clients have a range of service options catering to their specific needs. These services can be broadly categorised into three main types: Fit Out, Design and Build, and Turnkey services.
1. Fit Out
This type of contract involves a fit out contractor being appointed through a competitive tender process to fit out a commercial interior workspace based on a provided design and contract. The contractor works alongside an architect/designer and/or project manager to deliver the fit out. The Fit Out contract provides the client with greater control over the design and finishes, and the contractor focuses on delivering the project to meet the client's needs.
2. Design and Build
With a Design and Build contract, the client has a single contract with a building contractor responsible for designing and building the interior project. The design is either developed in-house or by an appointed external design firm, and the client may also appoint a project management firm. This type of contract offers a streamlined, collaborative approach to the construction process, as only one entity is responsible for both design and construction.
3. Turnkey
A Turnkey contract involves the client having a single contract with a building contractor who is responsible for designing and building the interior project. The design is developed in-house, and usually, there is no external project management firm involved. The contractor assumes responsibility for everything from design and construction to final handover in direct collaboration with the client.
Understanding the differences between Fit Out, Design and Build, and Turnkey services are crucial for businesses and clients looking to engage in commercial interior construction services. Each contract type offers unique advantages and caters to specific requirements, providing clients with flexibility and control over the project's outcome.
The Growing Demand for Design and Build Contracts
Over the past five years, there has been a significant shift in commercial interior building trends, both globally and in the United Arab Emirates (UAE), with a move away from traditional Fit Out service contracts towards Design and Build (D&B) service contracts. This shift is due to various factors, such as the increasing demand for streamlined construction processes and a desire for more efficient use of resources.
In the latest 2023 Q1 Construction Market Intelligence report from JLL, 85% of UAE-based contractors interviewed confirmed they are seeing a shift towards design and build procurement in the region[1]. According to the Design-Build Institute of America, Design and Build is the most popular and fastest-growing project delivery method. It is estimated that Design and Build will deliver nearly half of America's construction projects[2]. This trend can be attributed to the many benefits of Design and Build contracts.
Having established the growing demand for Design and Build contracts in commercial interior construction, let us take a closer look at the advantages this project delivery method offers over traditional contracts. By opting for a Design and Build contract, businesses can enjoy several benefits that can make the construction process more efficient, cost-effective, and streamlined. Here are some key advantages of Design and Build contracts to consider for your next interior construction project.
Advantages of Design and Build Contracts
1. Single Point of Contact
With Design and Build contracts, the client has a single contact point, simplifying communication and ensuring accountability. The building contractor is responsible for the entire project, from the design phase to the completion of the construction work. This means the client does not need to coordinate between different parties, such as architects, engineers, and contractors.
2. Flexibility in Choosing Design Team
The client can stipulate the type of designer they prefer to work within a Design and Build contract. The appointed building contractor can offer the choice of using their in-house design team or hiring an external designer to create the design for the project. This means the client has the flexibility to work with a design team they trust and feel comfortable with.
3. Construction Feasibility Considered Early in The Project
In a Design and Build contract, the designer and contractor work together as a team from the beginning of the project. This collaboration ensures that the design is feasible, and constructible, can incorporate sustainable materials and meets the client's requirements. Often value engineering if required can happen during the design process, in collaboration with the designer and project execution team. The contractor can provide valuable input on the construction feasibility of the design, which can help to optimise the design and reduce construction costs.
4. Savings in Time and Money with A Shorter Project Timeline
Design and Build contracts in most cases save time and money compared to traditional contracts. The design and construction phases overlap, so the project can be completed faster. Additionally, there is less potential for design changes during the construction phase, which can save time and money.
5. Early Procurement On Long Lead Items
With Design and Build contracts, finishes and specifications are decided at an earlier stage, which allows for early procurement of long-lead items, reducing the risks of project delays.
Sustainable Solutions Can Be Incorporated from The Initial Design Stage
In addition to the advantages above, Design and Build contracts offer an opportunity to integrate sustainable design ideas and solutions from the project's outset. As the contractor is responsible for both the design and construction of the project, they can work collaboratively with the client to ensure that the project meets their sustainability goals. This can include incorporating features such as energy-efficient systems, the use of sustainable materials, and implementing waste reduction strategies.
Furthermore, Design and Build contracts can also allow for external sustainable certification, such as LEED (Leadership in Energy and Environmental Design), a point-based green building rating system certified by US Green Building Council, to be integrated into the project scope and delivery timeline. The contractor can work with the client to achieve specific certification goals and requirements, ensuring that the project meets the necessary standards for sustainability.
By incorporating sustainable design and certification goals from the outset, Design and Build contracts can contribute to reducing the project's environmental impact while potentially reducing long-term costs associated with energy consumption and waste management.
Challenges of Design and Build Contracts
While Design and Build contracts offer several benefits, there are also some challenges to consider. These include:
1. Greater Reliance On Single Building Contractor
While having a single point of contact in a Design and Build contract simplifies communication, it also means the client has a greater reliance on the building contractor. As the contractor is responsible for the entire project, from design to construction, it is crucial to appoint a trusted and experienced contractor to ensure its success. Design and Build contracts require a high level of trust in the building contractor, so it is essential to do due diligence and choose a contractor with a proven track record of delivering similar projects on time and within budget.
2. No Competitive Bidding Compared to The Fit Out Method
Design and Build contracts typically do not involve a competitive bidding process, which can it harder to compare costs and select the best value for money option. However, the Design and Build approach's collaborative nature can help offset this by ensuring that the client and contractor work together to minimise costs.
3. Reduced Control Over Design Consultant
With Design and Build contracts, the client has less direct control over the design consultant than in traditional contracts. However, the contractor will typically involve the client in the design process and ensure that their requirements are met. It is important to establish clear communication channels and ensure that the contractor understands the client's vision for the project. Despite these challenges, the advantages of Design and Build contracts generally outweigh them, making it an attractive option for many clients. By working collaboratively with the contractor and design team from the beginning, clients can ensure that their project meets their needs, timelines, and budget while also integrating sustainable solutions from the outset.
Transform Your Commercial Space with Summertown's Design and Build Services
At Summertown, we partner with the leading designers in the UAE to develop exceptional interior solutions for our design and build projects. Our talented in-house design team also creates D&B designs, and our dedicated team of experts manage projects from conception to delivery.
We have our own in-house labour team and excellent relationships with subcontractors to ensure the delivery of high-quality interiors that comply with the UAE and international health and safety standards.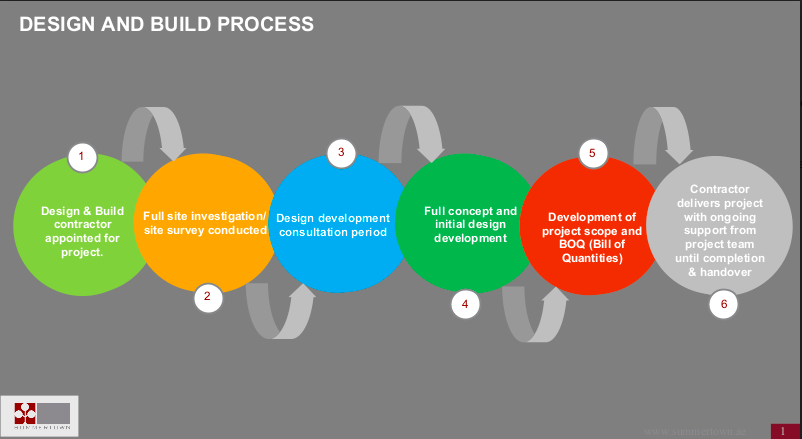 Our process involves conducting an entire site investigation to determine the scope of the project, developing designs in consultation with the client and our design team, creating a full concept and initial design, developing the project scope and Bill of Quantities, and delivering the project with ongoing support from our project team until completion and handover.
Summertown's Design and Build Projects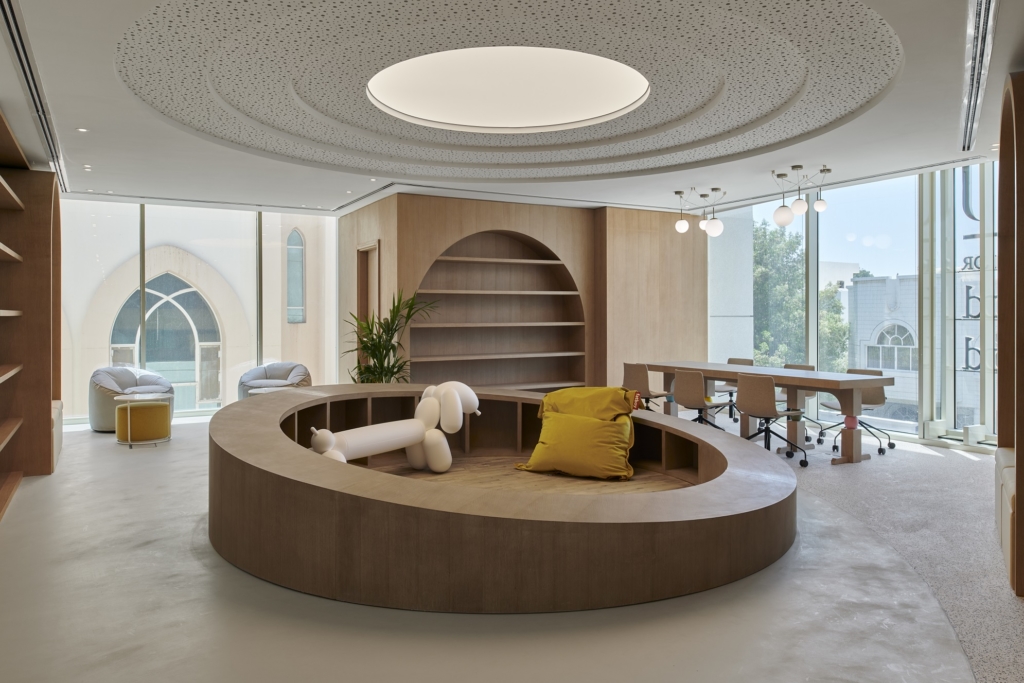 Our latest design and build portfolio includes an impressive range of commercial office projects, such as the Supreme Council for Motherhood & Childhood (SCMC) headquarters and the DIFC Innovation Hub. For the SCMC headquarters project, we were appointed by the independent UAE government organisation responsible for promoting the welfare and development of mothers and children in the country to design and build a new workspace that complemented the existing headquarters of the General Women's Union constructed on the adjacent plot.[3]
The space spans 3,500 sqm and features a unique design that pays homage to the UAE's cultural heritage. We worked in close partnership with Dubai-based interior design studio Roar to achieve this, using creative elements such as design structures that nod to the local desert landscape. The project required careful supply chain management as the bespoke and individually designed spaces encompassed a substantial variety of materials, furnishings, and fixtures sourced from over 50 suppliers.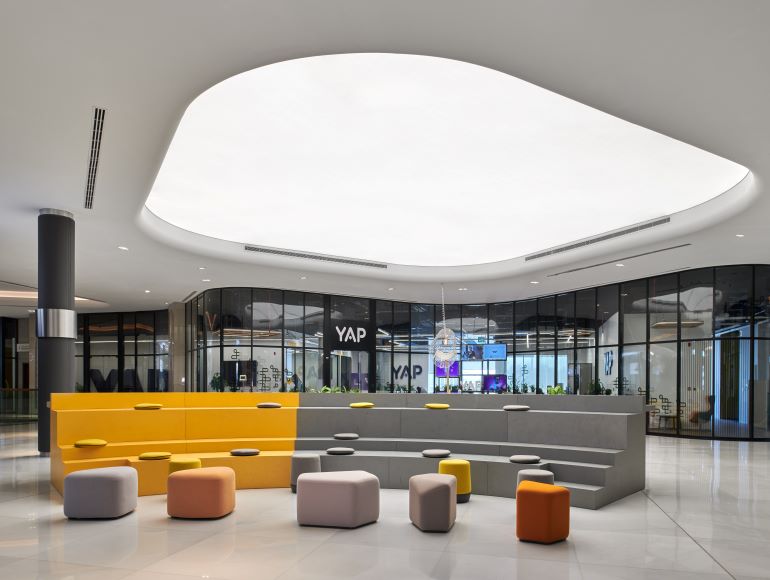 In line with the UAE government's sustainability focus, we ensured the project was completed in line with the stringent Abu Dhabi Green Building Estidama Pearl 2 Building Rating System, which SCMC is expected to be awarded in the coming months.
Located in DIFC Gate Avenue, the scope of the DIFC Innovation Hub, design and build project included office suites, common areas, and an auditorium. Summertown collaborated with several leading external designers on this D&B project that met LEED silver certification requirements and the client's desire to provide contemporary offices that characterise campus-style workspaces conducive to an environment of collaboration, activity-based working with fantastic amenities.[4]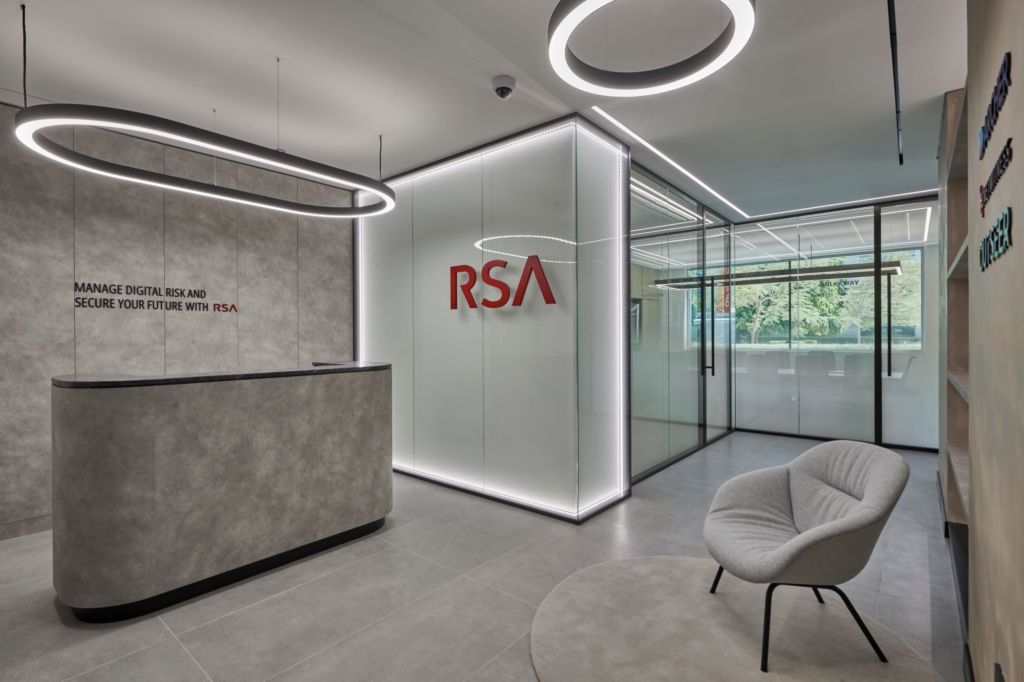 Our recent commercial office design and build projects designed in-house include RSA Security and a Finastra. The RSA Security office in Dubai Internet City was designed to align with the client's global corporate guidelines while providing a contemporary workspace that promotes a controlled and efficient use of power and lighting.[5]
Finastra's brief was to design and build a new workspace that enabled a dynamic, and flexible environment. Designed in-house by the Summertown team, the design adopts an open concept system to facilitate accessible communication between departments, continuous flow access to common areas and client dedicated rooms, with an innovative and technological integration approach. Abstract shapes, gradients, bright colour tones relating to the Finastra logo and the Finastra's brand identity.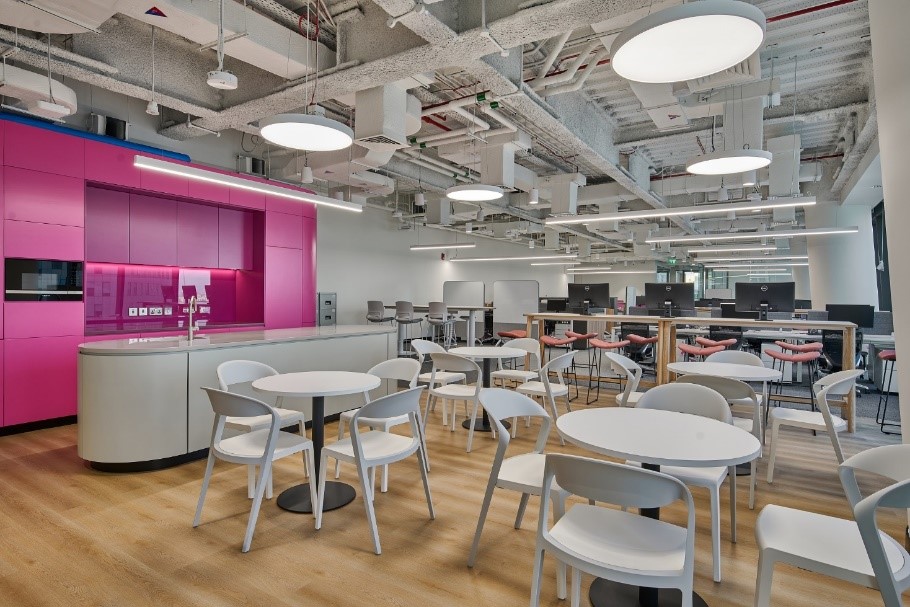 If you are considering a commercial interior project and are interested in the benefits of a sustainable design and build contract, we encourage you to contact us.
Our experienced team is available to discuss your project requirements and provide a customised solution that meets your needs and budget. Let us help bring your vision to life with our expert design and build services. Contact us today!
References:
[1]https://www.jll-mena.com/content/dam/jll-com/documents/pdf/research/emea/mena/jll-uae-construction-market-intelligence-q1-2023.pdf
[3] https://www.summertown.ae/projects/fit-out-project-supreme-council-for-motherhood-childhood-scmc/
[4] https://www.summertown.ae/projects/difc-innovation-hub-2/