Commercial Fit Out Trends – Looking Back & Moving Forwards
The Changing Nature of Work is the Driver for Commercial Office Fit Out Trends
It's become a tradition for us every year to reflect on the key trends and forces shaping office fit out. As we start a new decade, the key to forecasting trends in commercial fit out is an understanding of how the world of work is changing around us. [1]
In a more complex and digitally connected world, companies are being forced to evolve and compete in a rapidly changing environment. Agility and flexibility are critical components of growth.
Technology is changing the tasks and responsibilities of employees. With AI, robotics, etc. automating many routine tasks, leaving humans to take care of more valuable "knowledge work". At the same time, employee expectations about work have changed. People want to be engaged in meaningful tasks, in a welcoming and healthy environment that provides flexibility and a better work/life balance.  The way employees are carrying out their tasks and responsibilities are changing not due to technology, but also because the economic environment is being transformed. Overarching all these developments is an increasing concern with the environment, sustainability, and resource preservation. Companies are already being asked to account not only for their bottom line but for their actions as environmental actors.
Workplace design and fit out trends develop from year to year but there is rarely a radical disjuncture, rather change is cumulative. The 21st century is all about the disruption of traditional economic models. In 2018, we predicted that sustainability, biophilia, and modularity would be the most important sustainable office fit out trends. Then in 2019, we expanded and discussed how these trends would develop. For 2020, we see a continuing evolution of the same trends.
The United Arab Emirates (UAE) Context: A Dynamic Vibrant Cultural & Economic Environment
The UAE is always on the cusp of emerging trends in construction and design with a dynamic fit out and interiors market not only in tune with the latest global trends, but also often setting the pace.
UAE's interiors and fit out sector is one of the GCC's fastest growing industries. By 2022, it is expected to reach a value of $973 million according to Ventures Onsite. Overall, the GCC's construction sector is expected to have grown 12% during 2019, with completed projects valued at $74.97 billion. Furthermore, expenditure on GCC overall interior contracting and fit out spend across all sectors is expected to be $9.4 billion for 2019. [2]
Back in September 2019, the BNC Projects Journal estimated that there are more than 15,000 on-going projects in the UAE alone. [3] In the lead up to EXPO 2020, the UAE construction sector is surging. Renovation and new fit-outs are also witnessing steady growth with existing organisations looking to update and refresh their environments in step with the innovations.
According to a recent article, the themes dominating the industry are a "…combination of sustainability, innovation and technology". [4] For designers, going "green" has been identified as 2019's biggest trend in the UAE. Local designers and manufacturers are spearheading this innovative trend providing customers with more environmental choices. This includes recycling and repurposing materials and sourcing sustainable, ethical, homemade and fair-trade furnishings and décor materials. [5]
Top Fit Out Trends to Watch in 2020
We've examined in previous insight posts the UAE's increasing focus on sustainability as well as the rising demand among businesses and customers for more environmentally friendly ways of doing business and consuming. This includes government and business initiatives to increase environmental awareness and to eliminate harmful practices, such as cutting down on plastic waste.
1. Sustainability in Workplace Fit Out: Creating Virtuous cycles and making conscious choices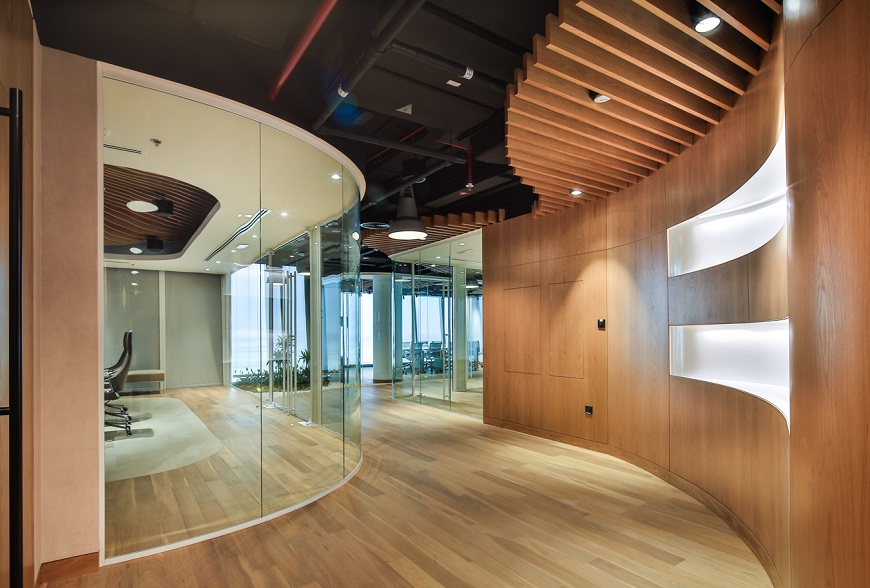 For 2020, we see the single most dominant trend is sustainability. For us, sustainability incorporates all the other significant trends of the coming year and decade. We have described the Sustainable office fit out as focusing on protecting the environment by using green building materials, managing resource consumption and reducing harmful emissions. This concern with "Green" design, construction and fit out can be closely linked to all the other trends or themes.
The definition of sustainability keeps evolving. A helpful way to think about it is provided by the New Zealand Ministry of Environment, which states that "green" buildings are "sensitive to:
The local and global environment
Consumption of natural resources, like water and energy
Quality of work environment – especially its impact on occupants
Financial impact [6]
In our recent insight post on the Circular Economy, we discussed how implementing a sustainable approach means putting in place a life cycle that integrates sustainability beginning from fit out and covering office management and maintenance. This by its nature involves a shift in procurement strategies, and resource consumption.
2. Living in Colour: Biophilia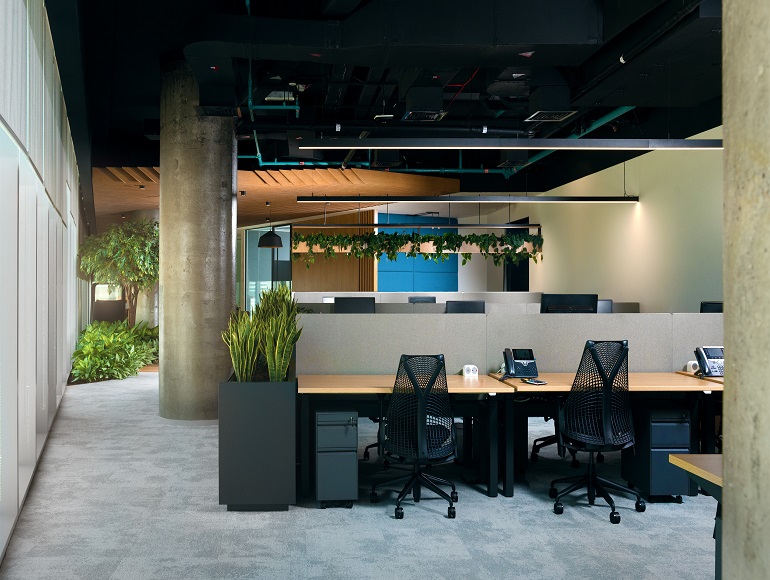 Biophilia is nearly indistinguishable from a sustainable approach. At its most basic level, it means allowing humans in built spaces/environments to have more contact with nature, whether by providing natural views through windows, providing more natural light indoors and incorporating more natural materials into interior design, including wood, stone, etc. Biophilic design can also involve evoking nature through using organic curves and lines in working environments, and incorporating green walls, plants, and nature themed art works.
Numerous studies have linked the use of natural features in indoor environments to improved productivity, creativity and well-being for occupants. [7]
3. Smart Spaces: Dynamic, Scalable and Flexible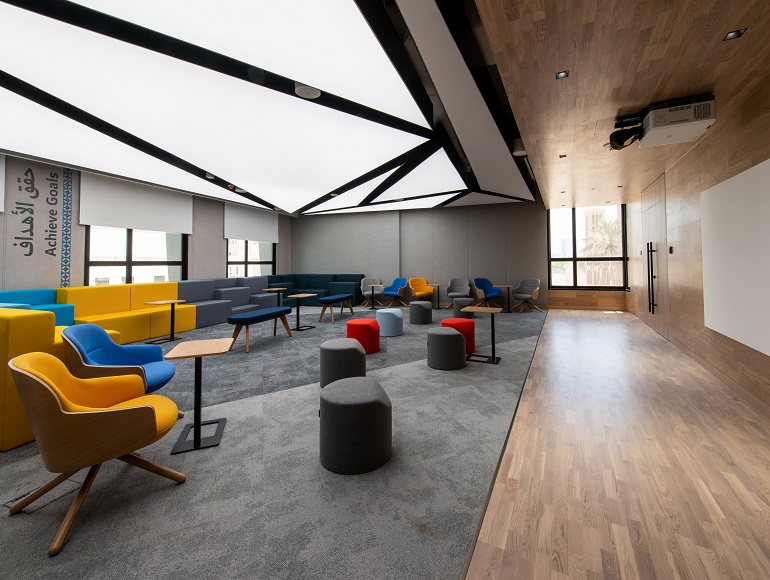 Space is an important resource, although we don't often think of it that way. How we use and structure space in business environments is critical. It has direct financial implications that can be calculated in occupancy rates and sqm, but it also has a more subtle impact – in the way a company is portrayed, how work is performed and on employee productivity. Many environments have incorporated the idea of multi-functional spaces over the last few years. Companies need to be able to scale up and down quickly in response to economic changes. At the same time, employees want to have more control over the space they occupy. Different types of work require different types of space – communal, co-working open areas, private offices, privacy cubicles, meeting rooms and areas for rest and so on.
Further development of the Smart space concept is 'Dynamic flexibility' described by design firm Ambius – "an entirely new generation of moveable, multi-functional, lightweight, and ergonomic elements designed to fit any space and purpose". Using elements like movable walls and lightweight, mobile furniture, and adjustable lighting and technology, spaces can be quickly and easily transformed to meet different needs.[8]
4. Technology & Innovation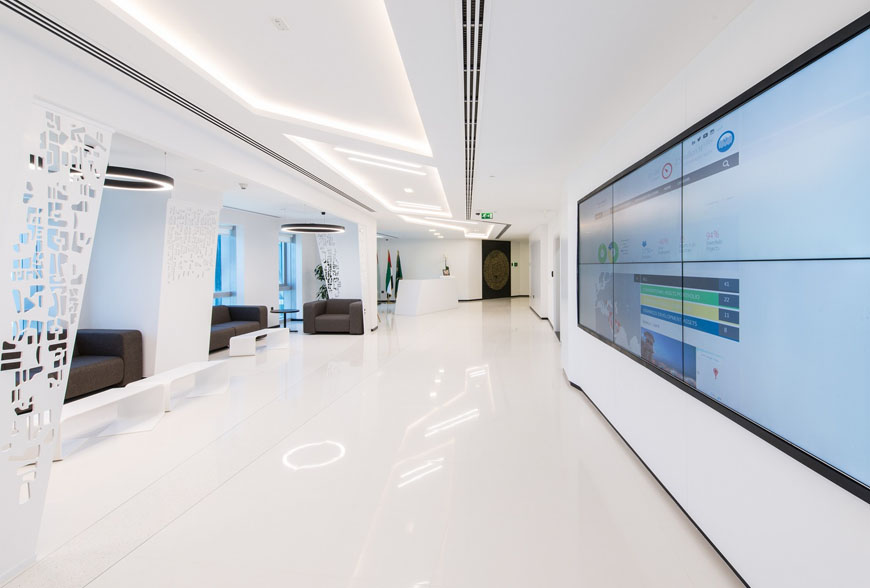 Digitalisation has penetrated virtually every aspect of our lives. But technology means more than just providing connectivity always and everywhere. In offices and other workplace environments, there are many ways that technological innovations can facilitate work and improve wellness and well-being. The future of work includes IoT (Internet of things), remote monitoring, data and analytics, 3D visualisation and augmented/virtual reality (AR/VR). [9]
Technology can make fit out more efficient by assessing how teams make use of space in real time. Some of the latest tech tools include: "smart badging data, wireless access points, network login data, phone apps, and sensors…" [10] Providing accurate data on how people are interacting with each other and with space can help companies, designers and
to increase spatial efficiency at the same time as employee comfort and satisfaction. For example, automatic sensors can control lighting and A/C and provide information on water and energy consumption. Accessible controls can allow employees to adjust lighting and temperature in different office areas to suit their preferences.
5. Taking Work Home and Bringing Home to Work: Identity, Community & Personalisation
In the modern world of work, we are doing more work away from the office. A 2018 study by International Workplace Group (IWG) found that 60% of UAE employees work out of the office at least one day a week and that up to 30% spend half the week or more away from the office. The study suggested that flexible working arrangements helped to improve company financial results and to increase employee productivity.  At the same time, when we are working in the office, we typically spend long periods there. Work has become one of the primary sources of social engagement in our modern society. This is one of the reasons for the popularity of co-working hubs.
Digital nomads still seek out human companionship and interaction. The modern office set up has to take into account both these trends, by making remote working more efficient and by adding homey touches to the office. A sense of community and shared identity can be fostered through the choice of colours, furnishings, and décor that emphasize the corporate brand and identity. Home-like touches can include the use of fabrics, textures, and lighting that evoke feelings of comfort.
Moving away from the sterile grey cubicle farms of 20th-century office life, we now have office environments that are colourful, cozy, but still maintain its professionalism. Giving employees some leeway to personalise and customise their working area can increase their sense of control and well-being, helping to improve concentration and performance. This can be done by providing ergonomic furniture, moveable partitions and providing guidelines for permissible personal items. Cushions, rugs, carpeting all add warmth and life to working areas. Setting up social areas for brainstorming and meals can stimulate discussions and problem solving.
6. Human Centricity: Health, Wellness & Well-Being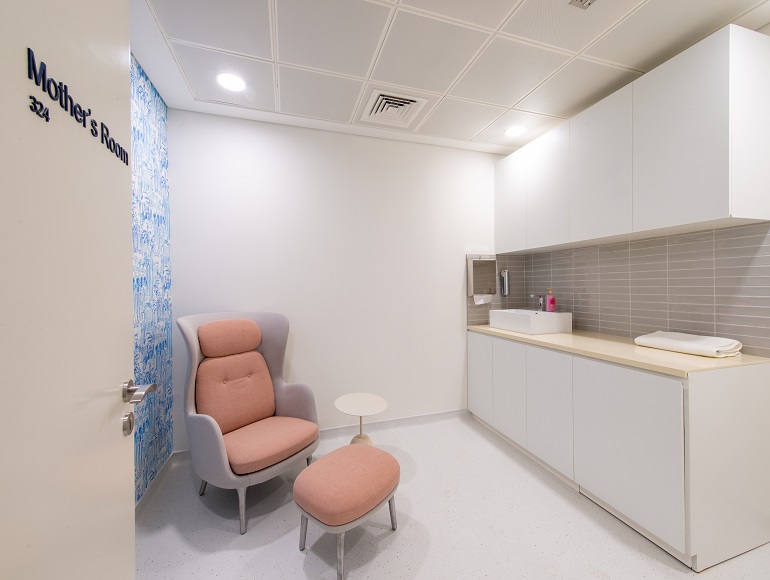 We started our discussion of the top trends in commercial fit out by discussing sustainability. We conclude by reaching the core of the sustainability question – human health and well-being. When we talk about sustainable fit out, we are dealing with more than just the bare facts of construction and building sites. Sustainable fit out has a direct, immediate and measurable impact on employees. Previously, we discussed how sustainable workplaces have to focus not only on resource management but on improving human physical health and mental well-being.
Companies around the world, both small and large understand the importance of investing in creating healthier and sustainable working environments that focus on improving employees' physical health and mental wellbeing. It turns out that fostering employee health, wellness and well-being begins with the sustainable fit out trends identified above.
Read our "Tips for Creating a Workplace that Enhances Employees' Wellness & Wellbeing"
Sustainable Fit Out Projects: Real Life Examples of the Key Trends
Trend: sustainability & technology
The fit out of the SMART Dubai office is a great example of how technology and sustainability can be integrated. While showcasing some of the most innovative uses of technology to facilitate work, this LEED (Leadership in Energy and Environmental Design) Gold certified office maintains a warm human touch using lighting, textures, plants, wood and curved silhouettes.
Key features:
Virtual Receptionist (manned by a robot) with a notification dashboard which also acts as a dashboard of the power & water consumption
Café with LED display of live social media and events
The switchable glass that turns opaque for lab room privacy
Digital room booking display – integrated to phone, email and pantry (sends an SMS and email room booking notification and food & beverage requests to the pantry)
All-In-One meeting room control pad (Cynap WolfVision) for display, lights, and blinds. Different devices (laptops, tablets, smartphones) can connect wirelessly to Cynap™, and display on-screen content simultaneously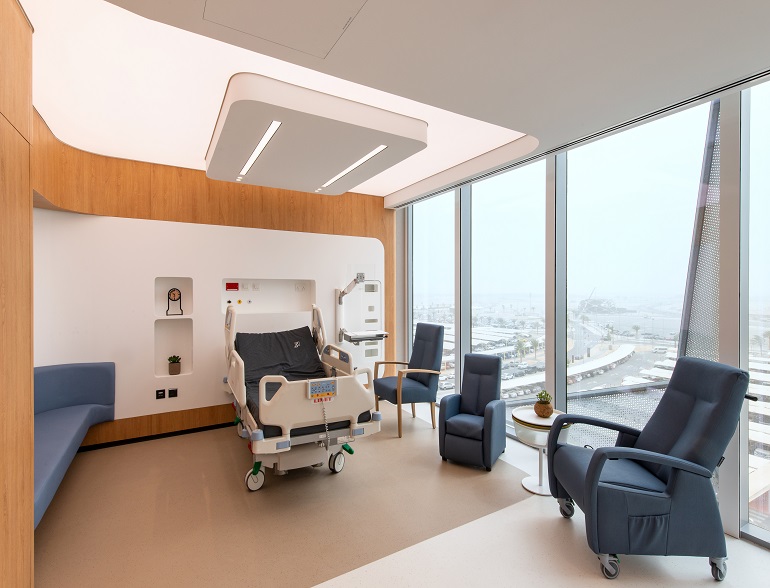 Trend: well-being & innovation
Located in Dutch Design Center in the heart of the Dubai Design District (d3), Royal Ahrend, an international furniture leader set up a state-of-the-art healthcare studio to showcase the latest health care interior solutions as well as acting as a knowledge and training centre. The concept was to create an innovative and timeless space following well-being design principles. This meant creating an atmosphere that is warm and welcoming using wood and solid surfaces. To maintain high hygiene standards curved corners and rounded edges that are easy to clean were used throughout. Discrete cabinets house the medical supplies and equipment, near at hand but out of sight. Patient areas showcase the latest innovations including adjustable bed and ergonomic monitors.
Key features:
Reception and waiting area
Doctors' office
Fully equipped patient room with caregiver zone.
Private meeting room
Fit Out Trends: Where We Are Now & Where We Go From Here
As we move into the second decade of the 21st century, we can see certain themes emerging, deepening and taking shape in the field of design and commercial fit out. As one of the leading interior fit out contractors in the UAE , we are committed to improving the quality of life of everyone working or visiting any of the spaces we construct. That means a deep commitment to sustainability. Sustainability is at the root of everything we do. We use all the tools and resources available in creating hospitable and healthy environments for human work while mitigating environmental impact. The increasing concern for the environment that is focused and encapsulated by the concept of sustainability validates what we have been doing for many years.
Adopting a sustainable approach presents many challenges as well as opportunities for businesses. We have first-hand experience and are dedication to help our clients capture these opportunities when undertaking a sustainable workplace fit out, including achieving international green interior certifications for their projects, such as  LEED.
Get in touch today to discuss how to integrate the latest fit out trends into your workplace project in a sustainable way.
References:
[1] http://cbre.vo.llnwd.net/grgservices/secure/CBRE_The%20Changing%20World%20of%20Work.pdf?e=1574752928&h=c64e55e7c00f4a82590700b2c4305554
[2] https://www.khaleejtimes.com/business/local/home-is-where-the-decor-is-to-your-taste
[3] https://www.khaleejtimes.com/business/local/real-estate-leisure-sectors-to-drive-uae-design-sector
[4] IBID
[5] https://www.thenational.ae/lifestyle/home/why-going-green-is-this-year-s-biggest-design-trend-1.896560
[6] https://www.mfe.govt.nz/publications/sustainability/guide-sustainable-office-fit-outs/what-does-sustainable-mean
[7]  Examples of such studies: https://www.ncbi.nlm.nih.gov/pmc/articles/PMC4276610/ ; https://www.ncbi.nlm.nih.gov/pmc/articles/PMC2760412/
[8] https://www.ambius.com/blog/2020-office-design-trends
[9] https://www.workdesign.com/2018/06/modern-fit-outs-demand-new-tech-and-human-intellect/
[10] IBID