WFH has its benefits but the office will always remain an integral part of the 'new way' of working
Working from Home (WFH) or remote working was an option given to many employees during the depth of the COVID-19 pandemic, and many people now enjoy the flexibility it provides. Having proved that we can all work remotely, is the office or workplace we have known for so long gone? What is the future for our physical workspaces? Together with our global partners in The United Workplace we asked our own staff and external stakeholders to share their thoughts on working remotely.
Key Survey Insights
From the several hundred responses across the UK, Australia, and the United Arab Emirates (UAE); 87% people missed 'face to face' interaction the most about the office environment (85% in the UAE). Interestingly, 40% of UAE respondents missed collaboration areas and rooms that physical workspaces provide.
Q: What do you miss about the office?
77% of people said they enjoy working from home, stating that no commuting (82%), more time to exercise (56%) and more time with the family (55%) are the three main benefits of working from home. Respondents in the UAE had similar responses but emphasized productivity with 40% stating they completed a lot of work with less distractions.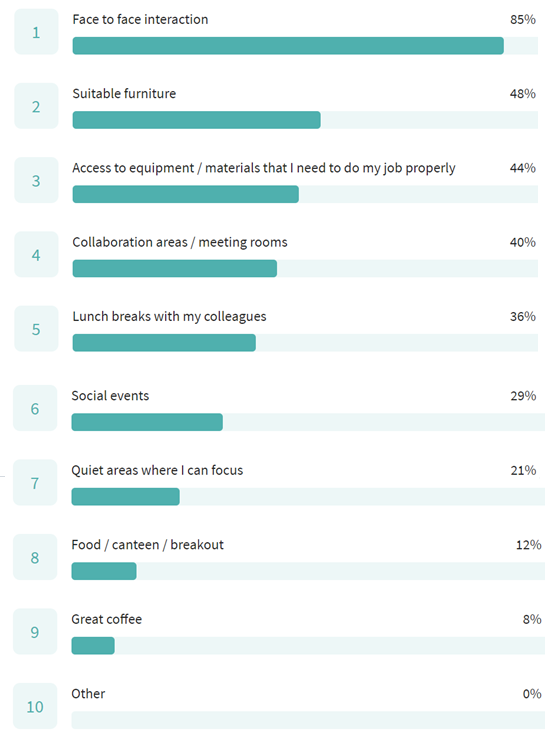 Q: What benefits do you think working from home has brought you?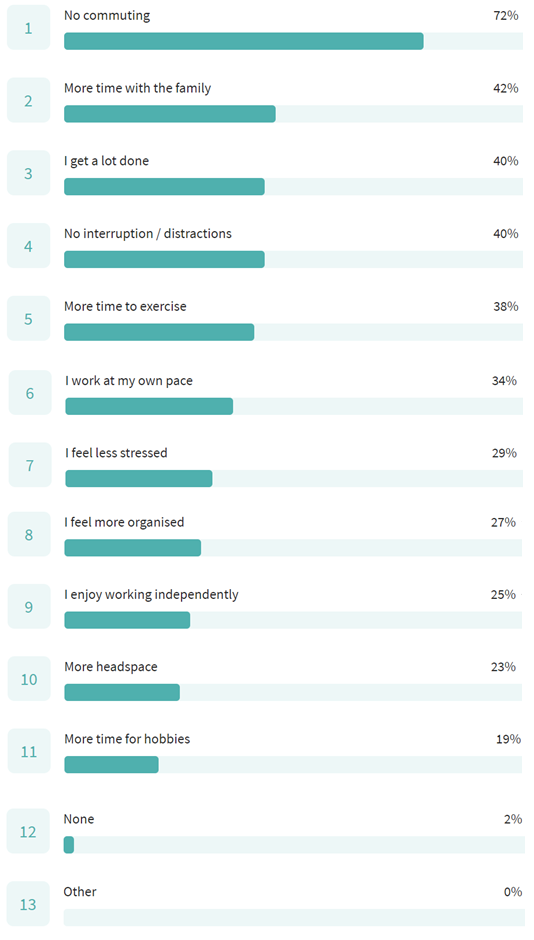 Q: What do you find challenging when working from home in the current climate?

Across all the regions surveyed, the three biggest challenges people have when working from home were: 65% miss their colleagues, 39% found they had uncomfortable seating/desk, whilst 35% found it difficult to switch off. Not surprisingly, a quarter of people feel isolated and disconnected from their company when working from home. The UAE's response was similar, highlighting the mental wellness challenges of remote working with 51% stating that they missed their colleagues, 23% feeling isolated and 12% stating it has impacted their mental health.
Will you keep working from home after the pandemic?
There will be a continued need for the office with 12% of people saying they will not work from home after the pandemic and 35% of people saying they'll only be working from home some of the time.
The UAE's response similar with 17% stating they would not work from home.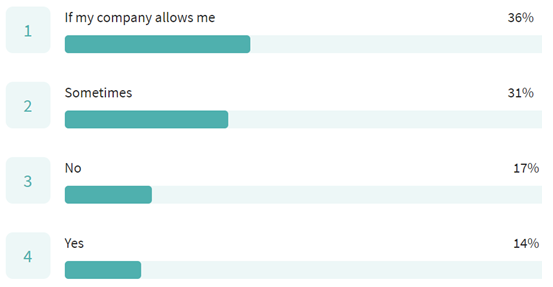 While WFH may have its benefits, the office will always remain an integral part of the new ways of working. People need to collaborate with their colleagues in order to achieve the objectives of their organizations, and remote working can make team work challenging at times.
Companies need to identify what can be done remotely by utilizing technology versus what really needs face-to-face interaction, and then adjust their physical workspaces to meet these requirements. One size will not fit all, but provided there is a clear policy and protocol in place, the benefits of both working from a physical office and remotely can be achieved. Furthermore, employers need to recognize that the physical office must be human centric, and to see this as an opportunity to not only make their workplaces compliant and safe, but also healthier, and more sustainable for the future.
Contact us to discuss how we can help you find the right solution for your business today.